Brunswick, Ohio (CNN) – Everyone was drenched by the time Mitt Romney arrived at his Father's Day pancake breakfast in Ohio, but the GOP candidate turned the lousy weather into a metaphor for the 2012 presidential race.
"It looks like the sun is coming out, and I think that's a metaphor for the country, the sun is coming out guys. Three and a half years of dark clouds are about to part and it's about to get a little warmer around this country, a little brighter," Romney said Sunday in Brunswick.

- Follow the Ticker on Twitter: @PoliticalTicker
One woman said residents had been praying for rain for weeks. The downpour was welcome to the nearby farms and acres of apple orchards behind them. It was less than ideal for a campaign trying to pull off a flawless stop on Romney's six-state bus tour.
Romney thanked the hundreds of people for the "warm welcome on this cold and rainy morning." Many sat around rain-soaked picnic tables, turning black trash bags into raincoats and campaign signs into umbrellas.
"This is courage, you guys out here wearing garbage bags, and those that didn't have garbage bags wishing you had them," Romney said, adding "this is really something. I guess you didn't know the rain was going to come."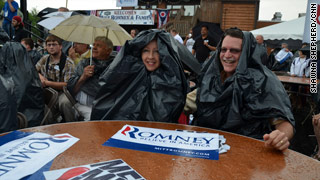 The rain finally stopped and clouds cleared as his bus rolled into the Mapleside Farms parking lot. The GOP candidate and father of five was joined on Father's Day with two of his sons, Craig and Matt, six of his 18 grandchildren, a daughter-in-law and his wife Ann.
After Romney spoke the family lined up to serve pancakes. As Matt stood in front of a griddle flipping wheat pancakes he was asked if he got his dad anything for Father's Day.
"Not yet. I still have time," he answered.
The presumptive Republican presidential nominee's sons gave their dad a present by way of the campaign, which released a father's day video that included interviews from each son as well as family videos that show a younger, more playful side to the former governor of Massachusetts.
They share stories about their dad waking them up on Saturdays to do yard work, talk about him being a "goofball" and how he "loved to horse around."
In the video one son recalls, "Matt likes to call [Romney] the great entertainer…whenever people are around he's always; he wants to make sure everyone's having a good time."
- Check out the CNN Electoral Map and Calculator and game out your own strategy for November.