Washington (CNN) - Congratulations Nevada!
More money has been spent per electoral vote in the Silver State to run TV ads in the race for the White House than any other battleground state so far during the general election.

- Follow the Ticker on Twitter: @PoliticalTicker
Six electoral votes are up for grabs in Nevada in November's presidential election, and $1,412,712 has been shelled out per electoral vote to air campaign commercials, according to data provided in a weekly note to their clients by Kantar Media/Campaign Media Analysis Group, which tracks political ad spending.
The data is from April 10 through June 28. April 10 is considered by many to be the unofficial start of the general election. It was the day former Sen. Rick Santorum of Pennsylvania suspended his presidential campaign. Santorum was former Massachusetts Gov. Mitt Romney's main rival for the Republican presidential nomination, and when he left the race, Romney became the presumptive GOP nominee.
The spots counted in the CMAG data include ads by Romney's campaign and President Barack Obama's re-election campaign, by the party committees and by independent groups. The data covers all commercials run on broadcast TV, but does not include local cable television.
According to the CMAG numbers, Iowa's a close second. Six electoral votes are also up for grabs in the Buckeye State, where $1,179,488 has been spent per electoral vote to run ads.
In third place is Ohio, which has 18 electoral votes at stake in the presidential contest. According to CMAG, $972,690 has been spent to run spots per electoral vote.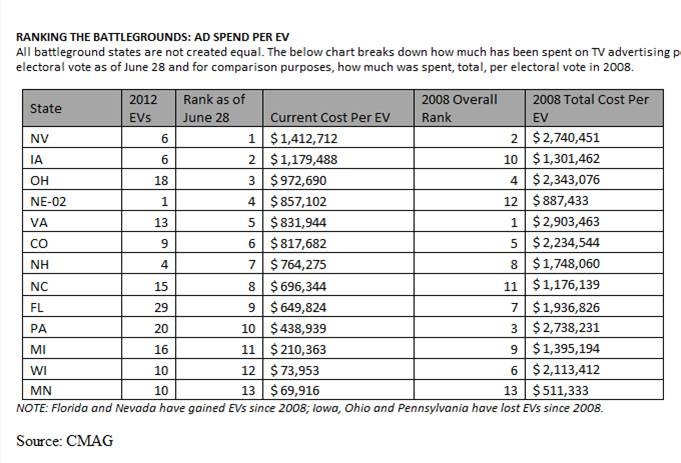 - Check out the CNN Electoral Map and Calculator and game out your own strategy for November.