(CNN) - President Barack Obama called the family of Josephine "Ann" Harris from Air Force One to express his condolences after Harris died Friday not long after his visit to the Akron, Ohio restaurant she owned.
Harris, 70, passed away in the emergency room at Akron General Medical Center at 11:18 a.m. ET, the chief investigator for the Summit County Medical Examiner's office confirmed to CNN.

No official cause of death is known at this time.
Obama talked to Harris' daughter, Wilma Parsons, to tell her he was honored to meet her mother Friday and to pass on his thoughts and prayers, according to White House Press Secretary Jay Carney.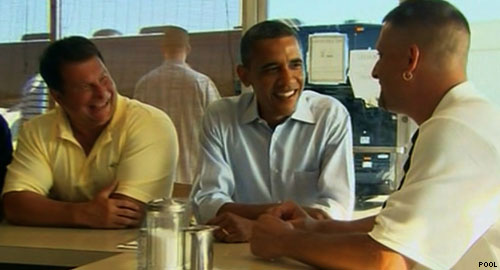 President Barack Obama talks with customers at Ann's Place on Friday morning. Pool photo.
The president visited the restaurant, Ann's Place, Friday morning for breakfast at the start of the second day of his bus tour through Ohio and Pennsylvania.
While Harris was not in the restaurant Friday morning, she drove up to the diner to meet with the president and take a photo outside.
- CNN's Brianna Keilar and Justin Lear contributed to this report.