(CNN) – Rain, wind and high water will not prevent Mitt Romney from becoming his party's official presidential nominee next week in Tampa, a spokesman for the Republican National Committee said Thursday as Tropical Storm Isaac churned its way through the Caribbean.
"We do have contingency plans to deal with weather related and other circumstances that may occur to ensure that the business can go on at the RNC and Mitt Romney and Paul Ryan will become our nominees," RNC communications director Sean Spicer said on CNN's "Starting Point with Soledad O'Brien."

- Follow the Ticker on Twitter: @PoliticalTicker
Spicer said that while the safety of delegates and others attending next week's Republican National Convention was paramount, the actual business of nominating Romney would not be delayed by bad weather.
"There is no such thing as canceling," Spicer said.
"In terms of the business of the RNC, the number one thing is obviously nominating - officially nominating - Mitt Romney as our presidential candidate and Paul Ryan as our vice presidential candidate," Spicer continued. "There are contingency plans in place and rules of the RNC in place that ensure that will always be able to occur."
Isaac's path is far from certain, though some computer models show the storm could pass up through Florida, including Tampa. Other models send it farther west, into the Gulf of Mexico.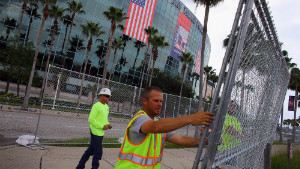 The latest forecast map from the National Hurricane Center in Miami shows Isaac passing near the Florida Keys early Monday as a Category 1 hurricane and northwest of Tampa by Monday evening.
The convention is scheduled to begin Monday and extend through Thursday evening, when Romney will officially accept the Republican nomination and deliver his highly anticipated acceptance speech. The convention speech is considered a crucial moment for any presidential nominee because many voters are just beginning to tune in to the presidential election.
The site of next week's Republican National Convention - The Tampa Bay Times Forum – is within the mandatory evacuation zone once storms reach 96 mph or a Category 2 hurricane, according to the Hillsborough County Hurricane Guide. The current forecast doesn't have Isaac reaching that status.
On CNN Thursday, Florida Gov. Rick Scott said any decision to cancel next week's convention would be made by the committee charged with organizing the event.
"The decision will be made by the host committee of the convention," Scott said. "The CEO is Bill Harris. His team will be the ones that will make the decision. My job is to help keep them informed."
Harris himself said in a statement Thursday he and his team would "move forward with our planning and look forward to a successful convention."
On Wednesday, Tampa's mayor said his city was prepared for Isaac, including the possibility of calling off the convention festivities.
"Absolutely we're prepared to call it off," Tampa Mayor Bob Buckhorn said on CNN. "I mean, human safety and human life trumps politics. I think the RNC recognizes that. The organizers, certainly Gov. Romney recognizes that."
Florida's governor, however, remained confident that next week's Republican confab would continue.
"See you at the convention," Gov. Rick Scott said as he concluded a news conference detailing his state's preparations for Isaac.
- Check out the CNN Electoral Map and Calculator and game out your own strategy for November.