Washington (CNN) - In the TV ad wars in the battle for the White House, the big question is when to spend.
And advertising patterns point out two very different philosophies between the campaigns of President Barack Obama and Republican challenger Mitt Romney.

"Chicago sees this contest as a seven-month run and Boston sees it as a three-month sprint," says Kantar Media/Campaign Media Analysis Group Vice President Elizabeth Wilner.
CMAG tracks political ad spending on broadcast and national cable TV. Total money spent on campaign commercials could top $1 billion, with CMAG saying about a third of that already being spent.
Obama campaign officials are very upfront about their strategy of taking to the airwaves early to get a jump on defining Romney.
"From a messaging standpoint, Chicago is banking on its summertime swamping of Romney with ads about Bain Capital, outsourcing, tax returns, abortion and education, culminating in its pre-convention rollout of Bill Clinton's 30-second case for a second Obama term," says Wilner. "This wasn't just a hunch for them-it was a calculation made out of necessity given the GOP's overall ad spending advantage, which started snowballing in mid-July and is expected to get even bigger as we enter the fall."
But while pro-Romney super PACs like Restore Our Future, Crossroads, and Americans for Prosperity have blanketed the airwaves with spots critical of the president, the Romney campaign held a lot of their firepower in the early months of the general election.
"Boston is betting on its use of the Olympics and GOP convention to start the rollout of Romney's biography, running mate and overall vision for America. This wasn't just a hunch for them, either-it was a decision made partly out of necessity given that Romney has to wait until he accepts the nomination on August 30 to access his general election campaign account," adds Wilner. "Boston did elect to zero in on Obama's performance on the economy from May through late July, waiting for the Olympics and the Games' whopping national audience, followed by the running mate announcement and the convention, as the right extended moment to start rounding out Romney's profile for voters."
Two different strategies. We'll find out which side was right come November 6.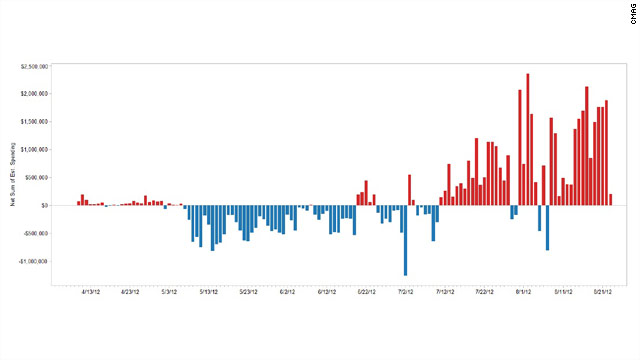 This chart by CMAG's Harley Ellenberger showing the day-by-day net partisan advantage in TV ad spending over the course of the race. See a larger version of the chart here.