(CNN) - It's the state where Mitt Romney was born and where his father served as governor, but a new poll indicates President Barack Obama is leading the Republican nominee in the race for Michigan's 16 electoral votes.
According to a CNN/ORC International survey (PDF) released Wednesday, 52% of likely voters in Michigan say if the presidential election were held today, they'd vote for the president, with 44% saying they'd cast a ballot for Romney. The poll is the second in a week to indicate Obama with a lead. The president was up 47%-37% over Romney in an EPIC/MRA poll released last week. But polls conducted earlier this summer indicated a closer contest.

- Follow the Ticker on Twitter: @PoliticalTicker
- See more CNN Polls at the CNN Polling Center.
The auto bailouts of General Motors and Chrysler may be a factor behind the new numbers in the state that's home to the domestic auto industry. They were prominently showcased during all three nights of the Democratic convention earlier this month, as was Romney's opposition to Washington's role.
The federal government's assistance of auto giants was started under President George W. Bush in 2008, but the next year Obama grabbed the keys to the program, managing and funding the bailouts of GM and Chrysler. Romney opposed the government bailout and pushed for a privately financed, managed bankruptcy of the two automakers.
According to the CNN poll, Obama piles up sizeable margins among his core groups, including women, union households, urban and younger voters, and those with lower incomes. But he also holds his own among men, higher-income Michiganders, and non-union households. He manages a 46%-46% tie among independent voters, and has a narrow deficit in the suburbs.
"One key to President Obama's strength may be the 51%-46% advantage he currently has among Michigan men," says CNN Polling Director Keating Holland. "It has been suggested that the auto bailout is particularly popular among men in 'car cultures' like Michigan even if they do not directly make their living from the auto industry."
Romney was born in Detroit and raised in nearby Oakland County, but he loses both of those regions to Obama, according to the survey. Romney does best in the southwestern part of the state, including the Grand Rapids area, where he has a 19-point lead over Obama.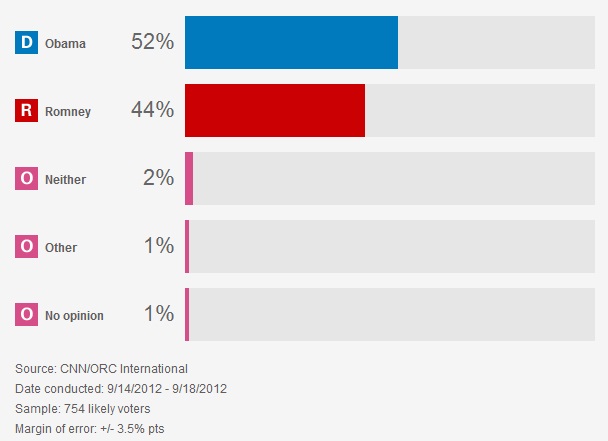 George H.W. Bush's 1988 victory in Michigan was the last time a Republican carried the state in a presidential contest. Obama won the state by 57%-41% over Sen. John McCain four years ago. The state is currently "lean Obama" in CNN's Electoral Map.
This cycle, since the unofficial start of the general election in early April, neither presidential campaign has spent money to run ads on broadcast TV in the state. SuperPACs and other independent advocacy groups backing Romney have spent over $6 million to run ads in Michigan, but that pales in comparison to other competitive states like Florida, Ohio and Virginia.
Wednesday Restore Our Future, a pro-Romney super PAC, announced that it was going to spend $2.2 million to run ads in Michigan and Wisconsin.
Obama has not visited Michigan since April. Romney and Ryan were last in the state in late August, just before the start of the Republican convention.
- Check out the CNN Electoral Map and Calculator and game out your own strategy for November.
"This was one of Governor Romney's top targets as he tried to expand his map - create more options to get to 270 – by putting the president on defense in some of the bigger blue states from 2008. They insist they haven't given up on Michigan, but the campaign isn't spending any TV money here, which speaks volumes," says CNN Chief National Correspondent John King. "Republicans had a great 2010 in Michigan, but when you talk to party leaders now, they are less and less optimistic that Romney can win here – and less and less certain he will even make a late push."
As for the "Restore Our Future" ad buy, King says it "looks like one last effort to budge the numbers now that the conventions dust has settled."
Also influencing the numbers in Michigan is the state of the economy. Michael Traugott, a professor of communications and political science at the University of Michigan, says one factor here is that while Michigan is hardly booming, things are a bit better than a few years ago.
"The economy is on an upward slope even though the magnitude of the slope is very small," Traugott told CNN. "Barack Obama also has a reservoir of popular support or sentiment about him personally, and views about how he cares for other Americans, that he can take advantage of and it's difficult for Romney to argue against."
According to the new poll, Green party nominee Jill Stein and U.S. Taxpayers party candidate Virgil Goode each at one percent among likely voters, with Natural Law party candidate Ross C. Anderson registered at less than one-half of one percent.
The survey was conducted mostly before Monday afternoon's release of secretly recorded remarks that Romney made at a private fund-raiser in May, where he described supporters of President Barack Obama as dependent on government. Fallout from the controversial clips has dominated coverage of the race for the White House over the past two days.
"As always, keep in mind that today's poll is not, and cannot be, a prediction of what will happen in November. One in eight likely voters say they could change their minds between now and Election Day, and with three key debates on the calendar, it's far too early to predict the final outcome in Michigan or any other state," adds Holland.
The CNN poll was conducted by ORC International from September 14-18, with 1,023 adults in Michigan, including 910 registered voters and 754 likely voters, questioned by telephone. The survey's sampling error for registered and likely voters is plus or minus 3.5 percentage points.