(CNN) - One day before Republican presidential nominee Mitt Romney campaigns in Nevada, a new poll indicates the state remains very much a battleground in the race for the White House.
According to CNN/ORC International survey (PDF) released Thursday, 49% of likely voters in Nevada say if the election were held today, they'd vote for President Barack Obama, with 46% supporting Romney. The president's three point margin is within the poll's sampling error, suggesting the two candidates are effectively tied in the fight for the Silver State's six electoral votes.

- Follow the Ticker on Twitter: @PoliticalTicker
- Check out the CNN Electoral Map and Calculator and game out your own strategy for November.
"Each one gets his core groups," says CNN Polling Director Keating Holland. "For President Obama, that means a lead among women and lower-income voters and an advantage among younger Nevadans. Mitt Romney has the edge among men and among higher-income and older voters."
The survey indicates that independent voters are virtually split, with 45% backing Romney and 43% supporting Obama.
According to the poll, Obama leads Romney 54%-43% in Clark County, which includes Las Vegas. The county contains about two-thirds of the state's population.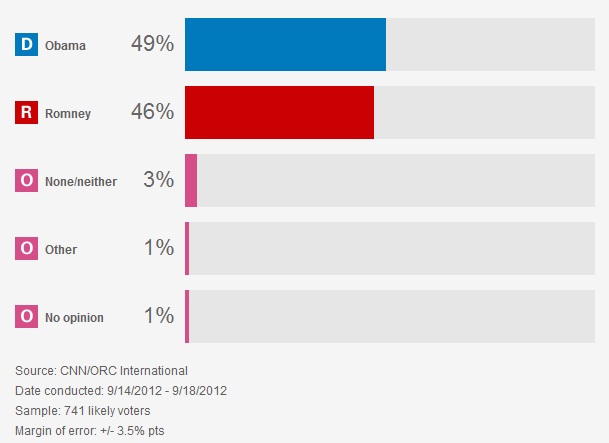 President George W. Bush narrowly carried Nevada in his 2004 re-election. But four years ago Obama won the state by 12 points over Sen. John McCain of neighboring Arizona.
This cycle Obama and Romney have each made four swings through Nevada since the start of the general election. Both campaigns continue to put up TV commercials in the state, with each spending nearly $900,000 over the past week to run spots on broadcast TV, according to data provided to its clients by Campaign Media Analysis Group (CMAG), which tracks campaign advertising. Since the unofficial start of the general election in early April, nearly $30 million has been shelled out by the campaigns, the party committees, and the super PACs and other independent groups backing the two candidates, to run ads in Nevada.
The ads are now most likely targeting the small minority of voters who are either undecided or could be persuaded to change their minds. According to the poll, nine out of ten say their mind is made up, with 8% saying they could change their minds.
Obama and Romney are not the only presidential candidates on the ballot in Nevada. When the other third party candidates are included, the president captures 47% of likely voter support, with Romney at 44%, Independent American party candidate Virgil Goode at 4% and Libertarian nominee Gary Johnson at 3%.
The CNN poll was conducted by ORC International from September 14-18, with 1,006 adults, including 864 registered voters and 741 likely voters questioned by telephone. The sampling error for likely voters is plus or minus 3.5 percentage points.