(CNN) - On the day that President Barack Obama and Republican nominee Mitt Romney both campaigned in Virginia, a new poll indicates a very close contest between the two candidates for the state's 13 electoral votes.
According to Suffolk University/WWBT-Richmond survey released Thursday, Obama holds a 46%-44% edge over Romney among likely voters in Virginia, with seven percent undecided. The president's two point margin is within the poll's sampling error.

- Follow the Ticker on Twitter: @PoliticalTicker
- Check out the CNN Electoral Map and Calculator and game out your own strategy for November.
The Suffolk poll is the fourth non-partisan, live operator survey conducted of likely voters in Virginia over the past two and a half weeks. The other surveys are Fox News (Sept. 16-18), Quinnipiac University/CBS News/New York Times and Washington Post (Sept. 12-16). Those earlier surveys indicated larger advantages for Obama. A CNN Poll of Polls that averages all four surveys indicates the president at 49% and Romney at 44%.
The Suffolk survey indicates Obama's favorable/unfavorable rating at 52%-44%, with Romney at 42%-45%.
"Barack Obama shows personal popularity and strength, especially outside of the D.C. area in northern Virginia," said David Paleologos, director of the Suffolk University Political Research Center in Boston, Massachusetts. "However, with job approval and head-to-head numbers stuck at 46 percent, it will be a significant challenge for Obama to convince the remaining undecided voters to re-elect him."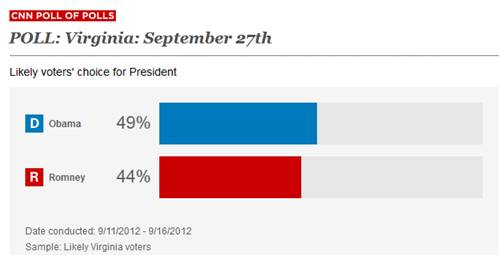 Four years ago Obama became the first Democrat since 1964 to win the Virginia in a presidential election.
Thursday the president campaigned in Virginia Beach, with Romney visiting Springfield, in northern Virginia.
Three other candidates are on the presidential ballot in Virginia. According to the Suffolk poll, Constitution Party nominee Virgil Goode (a former Republican congressman from Virginia) and Libertarian Gary Johnson each received 1% support, while Green Party candidate Jill Stein registered less than 1%.
In the race for Virginia's open U.S. Senate seat, former Gov. Tim Kaine, the Democratic candidate, and former Gov. and Sen. George Allen, the GOP candidate, are tied at 44%.
The winner will succeed Democratic Sen. Jim Webb, who narrowly edged out Allen six years ago. Webb decided against running for re-election.
The Suffolk University/WWBT-Richmond poll was conducted Sept. 24-26, with 600 likely voters in Virginia questioned by telephone. The survey's sampling error is plus or minus four percentage points.