(CNN) – A CNN/ORC International poll released Tuesday showed a majority of Americans feel the focus of the country's immigration policies should be on developing a path to legal residency for undocumented immigrants, a shift from years past, when majorities Americans said the focus should be on deportation and closing the country's borders.
The survey comes the same day Mitt Romney, the GOP presidential nominee, was quoted saying he would allow young immigrants offered a two year deferral by President Barack Obama to remain in the country if he becomes president, a clarification of his previous stance.
Tune to CNN for Wednesday's presidential debate coverage starting at 7 p.m. ET on CNN TV, CNN.com and via CNN's apps for iPhone, iPad and Android. Web users can become video editors with a new clip-and-share feature that allows them to share favorite debate moments on Facebook and Twitter.

- Follow the Ticker on Twitter: @PoliticalTicker
- Check out the CNN Electoral Map and Calculator and game out your own strategy for November.
The poll indicated 56% of registered voters said the main focus of U.S. policy on undocumented immigrants should be developing a plan that would allow them to become legal residents. Thirty-nine percent said the focus should be on deporting undocumented immigrants and stopping more from coming to the U.S.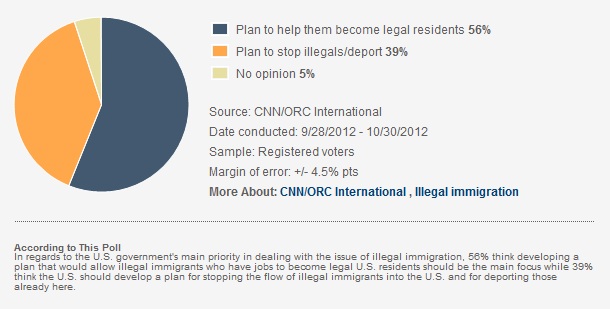 That's a change from one year ago, when 55% said the focus should be deportation, and 42% said the focus should be developing a path to legal residency. In 2010, 61% named deportation as more important, while 37% identified a plan for legal residency as a priority.
In June, Obama announced a change to immigration rules that allows people younger than 30 who came to the United States before the age of 16, pose no criminal or security threat, and were successful students or served in the military to apply for a two-year deferral from deportation. The rule change went into effect in August.
In Tuesday's CNN/ORC poll, 64% of registered voters said the new Obama policy was "about right," compared to 18% who said it goes too far and 15% who said it does not go far enough.
In an interview with the Denver Post published Tuesday, Romney said he would allow those who take advantage of the new rules to remain the country, say they "should expect that the visa would continue to be valid."
"I'm not going to take something that they've purchased," he said. "Before those visas have expired, we will have the full immigration-reform plan that I've proposed."
Previously, Romney had not specified how he would handle the estimated 1.7 million people who could qualify for the new rules.
Romney took a hard line stance on immigration during the Republican primary, but in Tuesday's interview and in his forum with Univision, the candidate has adopted a softer tone.
In December, Romney said he would veto the DREAM Act if he were president, saying instead he would support a path to residency – not citizenship – for those who served in the military, but not other DREAM Act proposals.
At a Republican presidential debate in January, Romney said he favored a system of "self-deportation," a policy that involves making economic conditions so difficult for undocumented workers that they choose to leave the country to find better opportunities. That stance was derided both by Democrats and his Republican rivals.
Lately, however, Romney has adopted a softer tone, advocating for permanent immigration changes rather than the temporary plans he says have been offered by Obama.
"We're not going to round up people around the country and deport them," Romney said at the Univision forum in September. "I said time and time again during our primary campaign, we're not going to round up 12 million people, that includes the kids and their parents, and have everyone deported. Our system isn't to deport people. We need to provide a long-term solution."
The CNN poll was conducted by ORC International by telephone September 28-30 among 883 registered voters. The sampling error was plus or minus 4.5 percentage points.