(CNN) – The latest national survey of likely Latino voters shows President Barack Obama retaining a big lead over rival Mitt Romney in the key voting demographic, matching the level of support he received from Latinos in 2008.
The poll also showed a majority of Latinos said the economy was a more important issue than immigration, and indicated enthusiasm among Latinos is lower than it is among non-Latino whites.
Tune to CNN for Wednesday's presidential debate coverage starting at 7 p.m. ET on CNN TV, CNN.com and via CNN's apps for iPhone, iPad and Android. Web users can become video editors with a new clip-and-share feature that allows them to share favorite debate moments on Facebook and Twitter.


Obama enjoys the backing of 70% of likely Latino voters, according to the CNN/ORC International survey, slightly higher than the 67% of Latinos who voted for him in 2008. Republican nominee John McCain garnered 31% of the 2008 Latino vote. In 2004, 53% of Latinos went for the Democratic nominee John Kerry over the 44% who went for President George W. Bush, according to national exit polls.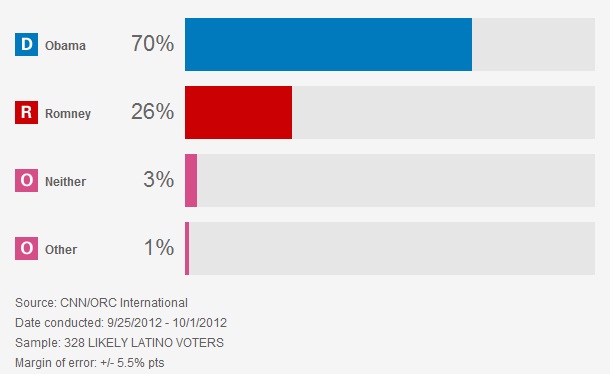 In Tuesday's poll, Romney wins support from 26% of Latino voters questioned.
Obama's approval rating has improved markedly among Latinos since 2010, the poll indicated. He stood at 57% approval two years ago, and was at 68% in Tuesday's poll. Twenty-eight percent of Latinos disapproved of the job Obama is doing as president, compared to 41% who disapproved in 2010.
When asked to rate their enthusiasm for voting on Election Day, 24% of Latinos said they were extremely enthusiastic, compared to 25% who said very enthusiastic, 24% who said somewhat enthusiastic, and 14% who said they were not enthusiastic.
Those numbers are lower than the enthusiasm figures for non-white Latinos, as measured in a CNN/ORC poll taken at the end of September. In that survey, 41% of non-Latino whites said they were extremely enthusiastic about voting in November.
A Pew Hispanic Center report released Monday predicted getting eligible Latino voters to the polls in November would provide the campaigns with a challenge. The report indicated a record 23.7 million Latinos are eligible to vote November 6, but that the turnout rate for the group in 2008 – 50% - was lower than that of black voters (65%) and white voters (66%).
In Tuesday's CNN/ORC survey, 44% of Latino adults rated the economy as their top issue, while immigration policy came in a distant second at 14%. Asked to choose between the economy and immigration, nearly three quarters of Latinos – 74% - said the economy was more important. Twenty-three percent said immigration.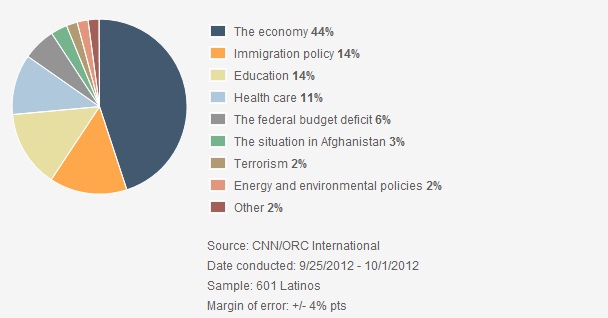 Broken down by topic, 50% of Latinos said unemployment was the top economic issue facing the country. Nineteen percent named the federal deficit, and 15% said gas prices.
Large majorities of Latinos named Obama as the candidate who would better handle the issues they rate as most important – 68% said the president would better handle the economy generally, and 69% said Obama would better handle unemployment.
On immigration policy, Obama's lead was even greater: 74% said the president would better handle the hot button issue, compared to 20% who named Romney.
The CNN poll was conducted by ORC International with telephone interviews of 601 adult Latinos, in English and Spanish, between September 25 and October 1. The sampling error was plus or minus 5.5 percentage points for likely voters, and 4 percentage points for all Latino adults.
CNN's Kevin Liptak contributed to this report.
- Follow the Ticker on Twitter: @PoliticalTicker