Denver, Colorado (CNN) - Two-thirds of people who watched the first presidential debate think that Republican nominee Mitt Romney won the showdown, according to a nationwide poll conducted Wednesday night.
According to a CNN/ORC International survey conducted right after the debate, 67% of debate watchers questioned said that the Republican nominee won the faceoff, with one in four saying that President Barack Obama was victorious.

- Follow the Ticker on Twitter: @PoliticalTicker
- Check out the CNN Electoral Map and Calculator and game out your own strategy for November.
"No presidential candidate has topped 60% in that question since it was first asked in 1984," says CNN Polling Director Keating Holland.
While nearly half of debate watchers said the showdown didn't make them more likely to vote for either candidate, 35% said the debate made them more likely to vote for Romney while only 18% said the faceoff made them more likely to vote to re-elect the president.
CNN Fact Checks: What was truth, and what was not?
More than six in ten said that president did worse than expected, with one in five saying that Obama performed better than expected. Compare that to the 82% who said that Romney performed better than expected. Only one in ten felt that the former Massachusetts governor performed worse than expected.
"This poll does not and cannot reflect the views of all Americans. It only represents the views of people who watched the debate and by definition cannot be an indication of how the entire American public will react to Wednesday's debate in the coming days," cautions Holland.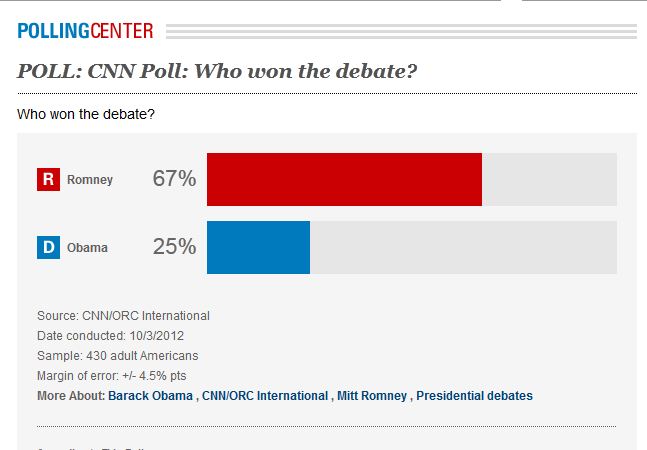 The sample of debate-watchers in the poll was 37% Democratic and 33% Republican.
"That indicates that the sample of debate watchers is about four points more Democratic and about eight points more Republican than an average CNN poll of all Americans, for a small advantage for the Republicans in the sample of debate-watchers," adds Holland.

Romney to deliver major foreign policy address next week
The poll suggests that the debate didn't change opinions of the president. Forty-nine percent of debate watchers said before the debate that they had a favorable opinion of Obama, and that number didn't change following the debate.
It was pretty much a similar story for Romney, whose favorable rating among debate watchers edged up just two points, from 54% before the debate to 56% after the debate.
The economy dominated the first debate and according to the poll, and by a 55%-43% margin, debate watchers said that Romney rather than Obama would better handle the economy. On the issue of taxes, which kicked off the debate, Romney had a 53%-44% edge over Obama. And by a 52%-47% margin, debate watchers said Romney would better handle health care, and he had the edge on the budget deficit by a 57%-41% margin.
Debate watchers thought Romney was more aggressive. Fifty-three percent said Romney spent more time attacking his opponent. Only three in ten thought Obama spent more time taking it to Romney. By a 58%-37% margin, debate watchers thought Romney appeared to be the stronger leader.
"Romney's only Achilles heel may be the perception that he spent more time attacking his opponent than Obama, which may explain why two-thirds of debate-watchers said that Romney did the best job but only 46% said that he was more likeable than Obama," says Holland.
The CNN poll was conducted by ORC International, with 430 adult Americans who watched the debate questioned by telephone. All interviews were conducted after the end of the debate. The survey's sampling error is plus or minus 4.5 percentage points.
CNN Political Editor Paul Steinhauser contributed to this story