(CNN) – President Barack Obama's decision to allow some young undocumented immigrants to defer deportation is very popular among Latinos, according to a CNN/ORC International poll released Thursday, pointing to one likely reason the president enjoys high support among the key voting demographic.
In the poll, 71% of Latinos said Obama's decision, which was announced in June and went into effect in August, is about right. Another 15% said it doesn't go far enough, and 13% said it goes too far.

- Follow the Ticker on Twitter: @PoliticalTicker
- Check out the CNN Electoral Map and Calculator and game out your own strategy for November.
The president's decision allows people younger than 30 who came to the United States before the age of 16, pose no criminal or security threat, and were successful students or served in the military to apply for a two-year deferral from deportation.
In the poll, a large majority of Latinos – 77% - said the focus of the country's immigration policy should be allowing undocumented immigrants to become legal U.S. residents. Twenty-one percent said the focus should be on deporting them and stopping more from coming to the United States. Non-Latino whites are twice as likely to say that the main focus should be on border security and deportations.
The poll also showed a large generation gap among Latinos on how immigrants should engage with U.S. culture once they're in the country. Among all age groups, 49% said it's better for immigrants to blend into U.S. culture, and 44% said it's better to for an immigrant to maintain his own culture.
Among Latinos aged 50 or older, 62% said it was better for immigrants to blend into the culture of the United States, and 33% said it's better to maintain an immigrant's own culture. Younger Latinos felt differently – 45% said it's better to adopt the U.S. culture, and 49% advocated maintaining an immigrant's own culture.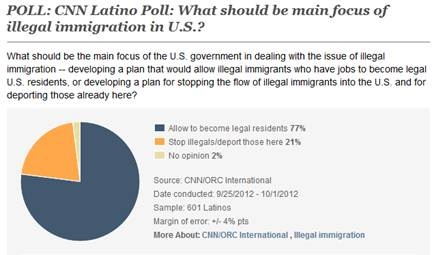 On Tuesday, CNN released poll numbers showing a majority of likely Latino voters favored Obama over his rival, GOP nominee Mitt Romney. The poll put Obama's support among Latinos at 70% and Romney's at 25%. Seventy-four percent of Latinos said Obama would better handle immigration, while 20% said Romney was better prepared to handle the issue.
The CNN/ORC International poll was conducted by telephone from 601 adult Latinos between September 25 and October 1. The interviews were conducted in English and Spanish. The sampling error for all adult Latinos was plus or minus 4 percentage points, and among likely Latino voters the sampling error was plus or minus 5.5 percentage points.
CNN's Kevin Liptak contributed to this report.