(CNN) - On the day that both presidential candidates are campaigning in Ohio, a new poll indicates a close contest in the race for the Buckeye State's 18 electoral votes.
According to a CNN/ORC International poll (PDF), 51% of likely voters in Ohio say they're backing President Barack Obama, with 47% supporting Republican nominee Mitt Romney. Obama's four point advantage is within the poll's sampling error.

- Follow the Ticker on Twitter: @PoliticalTicker
- Check out the CNN Electoral Map and Calculator and game out your own strategy for November.
The survey, released Tuesday, was conducted October 5-8, entirely after last Wednesday's first presidential debate. Since non-partisan, live operator polls of likely voters in Ohio conducted prior to the debate indicated Obama with a 7-10 point advantage over the former Massachusetts governor, the new CNN survey suggests that Romney got a bounce following the debate.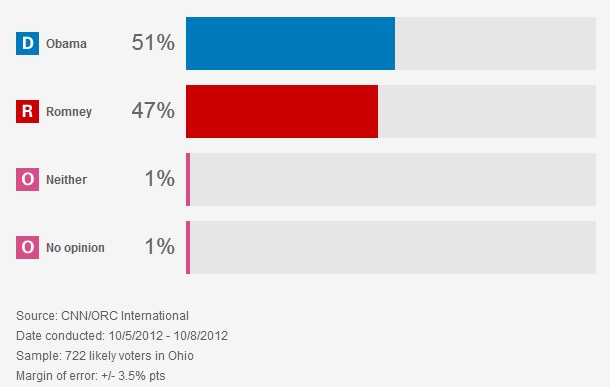 The CNN poll indicates a wide gender gap, with Romney leading by 14 points among men and Obama ahead by 22 points among women voters.
"Independent voters, suburban voters, and older voters are all evenly divided, indicating a close race right now," says CNN Polling Director Keating Holland. "But that's not a prediction of what will happen in November. With one in eight likely voters saying that they could change their minds between now and November, and several crucial debates still to come, there is every reason to expect the race to change in Ohio."
American Research Group is also out Tuesday with a poll in Ohio, with Romney at 48% and Obama at 47% among likely voters. ARG's previous Ohio survey, conducted in mid-September, had Obama at 48% and Romney at 47%.
"The new polls are a huge boost for Republicans, coming just a couple weeks after a string of polls made them wonder if there was any way to win without Ohio," says CNN Chief National Correspondent John King.
Three national polls released in the past 24 hours also indicate the race knotted up among likely voters. And two of the surveys, from ARG and Pew Research Center, also suggest a post debate bounce for Romney.
"There is clearly movement in Ohio similar to what we see nationally. You see it in our numbers. It's a very close race in Ohio and you feel it talking to people on the ground," adds King, who is reporting from the Buckeye State.
Ohio was the state that put President George W. Bush over the top in his 2004 re-election. Four years later Obama carried the state by five points over Sen. John McCain. But the Republicans performed well in the Buckeye state in the 2010 midterm elections, winning back the governor's office and five House seats from the Democrats.
This cycle Ohio is seeing an outsized amount of campaign traffic. Obama's Tuesday rally in Columbus is his 12th visit to the Buckeye state since the unofficial start of the general election campaign in early April. For Romney, his event Tuesday in Cuyahoga Falls is his 15th visit to Ohio in the same time period.
Overall, the campaigns, party committees, and super PACs and other independent groups have spent nearly $92 million to run ads on broadcast TV in Ohio since the start of the general election, with more than $20 million of that coming just in the last two weeks. Those figures come from Campaign Media Analysis Group, which tracks political advertising for its clients.
"The governor still has problems here, especially with working women in the critical suburban areas. And the president benefits from an improving Ohio economy," says King. "But our numbers reinforce why there has been $90 million spent on presidential campaign TV ads the past six months: This is the battleground of the battlegrounds."
Libertarian Party candidate Gary Johnson, Green Party candidate Jill Stein, and Constitution Party candidate Virgil Goode are also on the presidential ballot in Ohio. When their names were added to the poll, Obama is at 48%, Romney 45%, with Johnson at 3%, Stein at 1% and Goode registering less than one-half of one percent.
The CNN poll was conducted by ORC International, with 1,020 Ohio adults, including 888 registered voters and 722 likely voters, questioned by telephone. The survey's overall sampling error is plus or minus 3.5 percentage points.
MORE FROM THE CNN POLITICAL TICKER:
Big Bird the focus in sarcastic new Obama ad
Romney revives 8% unemployment critique at rainy rally