Henderson, Nevada (CNN) – With the high-risk, high-reward debate season finally behind him, Mitt Romney projected an air of sunny confidence Tuesday, telling supporters the head-to-head match-ups with President Obama had "super-charged" his campaign.
"There's no question about it, we're seeing more and more enthusiasm, more and more support," after a series of widely-watched televised debates with the president, Romney told a cheering audience of about 6,000 outside Las Vegas.

- Follow the Ticker on Twitter: @PoliticalTicker
- Check out the CNN Electoral Map and Calculator and game out your own strategy for November.
The GOP presidential nominee, who turned his campaign's summer doldrums into a surge in the polls following his first debate performance in early October, renewed his attack on Obama over the president's second-term agenda.
"He's been reduced to try to defend characters on Sesame Street and word games of various kinds, and then misfired attacks after one and another," Romney said. "You know the truth is that attacks on me are not an agenda."
Romney told the audience that after four debates, including a vice presidential sit-down, "we haven't heard an agenda from the president and that's why his campaign is taking on water and our campaign is full steam ahead."
Romney wrapped up his third debate with the president – this time focused on foreign policy – on Monday night. A CNN instant poll showed debate watchers gave Obama the edge in that meet-up, and Democrats quickly pointed to the areas in which Romney had seemed to agree with the president's policies.
A Romney senior adviser conceded there were some areas of agreement, but pointed to Romney's stance on China and on modernizing the Navy as standing out.
"Where there were differences in opinion and differences in policy, he did point them out," said Romney adviser Kevin Madden.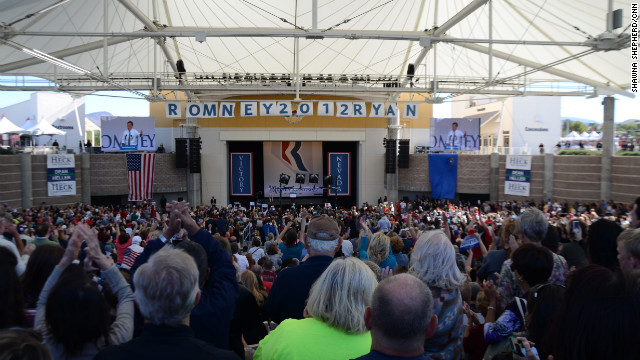 Still, the campaign clearly felt Romney had scored points with his debate-night criticism of the president's second-term agenda. Madden said the Obama campaign had punched "a glossy panic button" Tuesday morning when it released booklet of the president's policy proposals for the next four years.
In Henderson at the first of two joint rallies Tuesday, Romney's running mate Paul Ryan echoed the campaign's confident demeanor, telling the cheering audience of the president: "in 2 weeks from today, he is going to become former President Barack Obama and Mitt Romney is going to be the next President of the United States."
Then both Romney and Ryan repeatedly urged the Nevada audience to vote early. Polls show a tight race in Nevada, with Obama holding a slight edge.
President Obama planned to rally an audience in Las Vegas the following night.
–CNN Political Producer Shawna Shepherd contributed to this report.