EDITOR'S NOTE: CNN has sent dozens of reporters, producers, contributors and correspondents to the key battleground states to cover the final days of the 2012 election. The following dispatch is from CNN's Ed Lavandera in Colorado.
BOULDER, Colorado - We've spent the last week peering into the psyche and soul of Colorado voters in the days leading up to the 2012 presidential election. We've dissected campaign strategies, the economy, key voting groups and those relentless television commercials.
But the quest for a unique voice, a slightly different point of view brought me to the streets of Boulder, a city known for strolling to a, shall we say, peculiar drumbeat. A perfect place to explore the lighter side of presidential politics.
Watch CNN's comprehensive coverage of Election Day starting at 6 p.m. ET Tuesday on CNN TV and follow online at CNN.com or via CNN's apps for iPhone, iPad and Android. For up-to-the-minute results, go to cnn.com/results and for our real-time Election Day live blog, check out cnn.com/conversation. Need other reasons to watch Election Day coverage on CNN's platforms? Click here for our list.

- Follow the Ticker on Twitter: @PoliticalTicker
- Follow Ed Lavandera on Twitter: @EdLavaCNN
I found street poet Bill Keys sitting in front on antique Corona typewriter and a sign that read "POEMS about anyone or anything." In Boulder, Keys is known as "The Poem Guy." So naturally I thought a poem about the 2012 presidential election would be appropriate.
THE ELECTION
bar codes and black boxes
too much money
not enough debate
hollywood has taken over the executive branch
who ya gonna pick
Coke or Pepsi
put on the blind fold
and take a sip
black yankee death water
and tell us
which is better
with a gmo whopper
Today I'm electing my community
to get us through the next four years
we will survive with all the love and turmoil
as long as FEMA
or the national guard
doesn't get in our way.
the great thing about the election
is its almost over
the ship is still sinking
LET's Meet at the bar
a place we still actually have a choice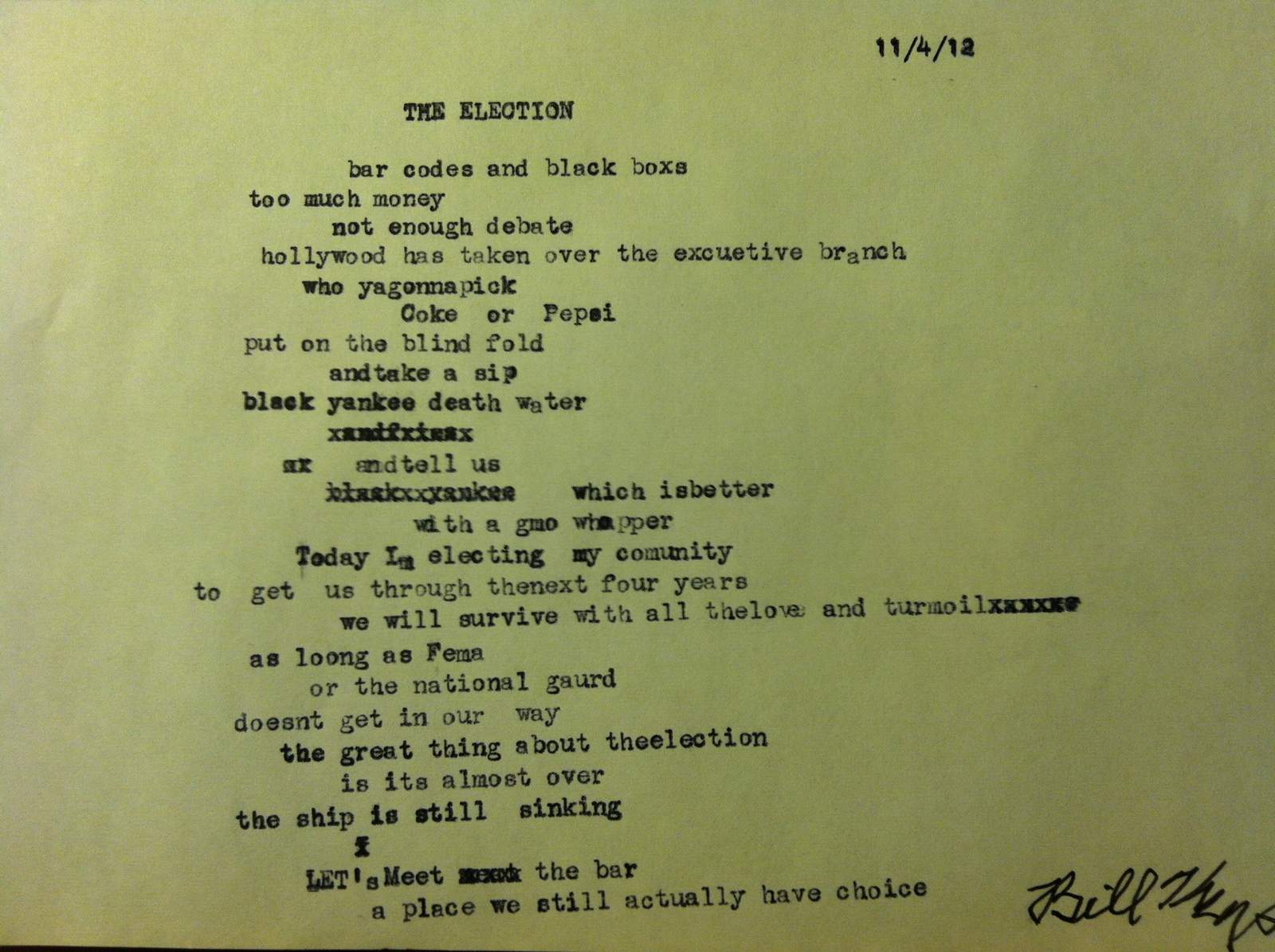 Photo by Ed Lavandera
- Check out the CNN Electoral Map and Calculator and game out your own strategy for November.