Washington (CNN) - A majority of Americans give President Barack Obama a thumbs up on the job he's doing in office, but according to a new national poll they are less optimistic about the country's future than they were four years ago when Obama won the White House for the first time.
A CNN/ORC International survey released Monday indicates that 56% of the public thinks the country will be better off four years from now, with four in ten saying it will be worse than they are now.

- Follow the Ticker on Twitter: @PoliticalTicker
"The 56% figure's not bad, but it's way down from the 76% who felt that way in late 2008 after Barack Obama had won his first presidential bid," said CNN Polling Director Keating Holland.
Four years ago, as Obama took office, the nation's economy was in a free-fall. Economic conditions have obviously improved from those days, with the country currently in a slow recovery.
Forty-three percent say things are going well in the country right now, virtually unchanged from just before the election, with 57% saying things are going badly.
The survey also indicates that 54% say they are enthusiastic or optimistic about the president's second term, with 44% pessimistic or afraid. The 54% figure is a bit less than the 58% who felt that way about President George W. Bush's second tour of duty in November of 2004.
Fifty-two percent approve of the way Obama is handling his job as president, with 43% saying they disapprove. Obama's approval rating is virtually unchanged from his pre-election approval rating of 51%. And it's changed little this year: Since February the president's approval rating ranged between 49% and 52% in CNN polling.
"The generation gap that was evident in presidential vote still remains, but the gender gap has vanished, at least temporarily," Holland said. "President Obama's approval rating is 58% among younger Americans, but a majority of older Americans disapprove of Obama. But Obama's approval rating among men and women is exactly the same - 52% among men, 52% among women."
Will a first term under his belt make Obama a better president?
Fifty-three percent say the president's experience from his first four years in the White House will make him a better president over the next four years, with 13% saying it will make him a worse president and one in three saying it will make no difference.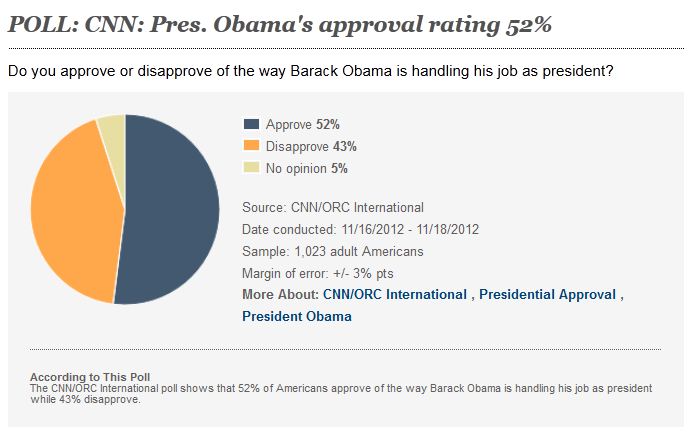 According to the poll, 58% have confidence that Obama will make good choices to replace Cabinet members who leave his administration, although two possible replacements for Secretary of State Hillary Clinton, Sen. Foreign Relations Committee Chairman John Kerry and U.S. Ambassador to the United Nations Susan Rice, are not nearly as popular or well known as Clinton.
The election returns did not appear to change public opinion of Obama, with his favorable rating now at 56%, but Mitt Romney's favorable rating has tumbled to 43%, possibly a response to the Republican presidential nominee's remarks last week that he lost the election because Obama offered "gifts" to African-Americans, Hispanics, and young voters. Romney's favorable rating dropped six points to 43%, with his unfavorable rating edging up to 50%.
One other finding from the survey: Fifty-one percent oppose the new national health care law, with 42% saying they favor the measure, known officially as the Patient Protection and Affordable Care Act and nicknamed by many as "Obamacare." But only 37% oppose the 2010 law, passed by a Democratic controlled Congress and signed into law by Obama, because it is too liberal, with 9% opposing the law because it's not liberal enough.
The CNN poll was conducted by ORC International from November 16-18, with 1,023 adult Americans questioned by telephone. The survey's overall sampling error is plus or minus three percentage points.
CNN Political Editor Paul Steinhauser contributed to this report
Also on the CNN Political Ticker
- Graham says he'd break no-tax 'pledge'
- Cantor: Voters more concerned about problem solving than pledge
- Christie gets post-Sandy approval rating bump
- Norquist says he'll go after pledge-breakers