(CNN) - Like it or not, Vice President Joe Biden's personality was at full-force Thursday as he greeted senators and their families for their ceremonial swearing-in in the Capitol's Old Senate Chamber on the first day of the new Congress.
Biden particularly turned up the charm with lawmakers' mothers, kissing plenty of cheeks and not going shy on the flattery.

[twitter-follow screen_name='politicalticker']
Republican Sen. John Barrasso's mom, Louise, especially hit it off with the vice president. As they posed for a photo, Biden pulled her by the waist to stand next to him.
"Take a chance, ruin your reputation here," he joked, sparking a wave of laughter among the family.
After they took a group photo, Biden leaned down and hugged the mother, bringing her closer to the photographers. "Would you take a picture of this quickly?"
As she laughed in his arms, Biden turned to Barrasso and said: "Now I got evidence."
"I'm 90 years old," she shot back, sparking more laughter.
"I'll tell you what, 20 years from now when I show my kids this picture, you will have to come and sign it," Biden said, before kissing her on the cheek.
The vice president also flashed a big grin when Democratic Sen. Bob Casey of Pennsylvania walked up with his family. Referring to Casey's mother, Biden said: "Guys, other than my mother, this is the finest lady I've ever known."
According to the senator's office, Biden grew up on the same street as the Casey home in Scranton, Pennsylvania. As the family walked away, Biden stood alone with his hands clasped, "Anybody else want to be sworn in as a senator today?"
He continued to show the love with Republican Sen. Dean Heller's family. After one man in the group told Biden he has "a million dollar smile," the vice president stroked the cheek of Heller's mom, saying: "There is a lot to smile about today."
"You betcha," she responded.
One of the most talked-about moments of the day came when freshman Sen. Heidi Heitkamp's family posed for a photo with Biden. A photographer told the North Dakota Democrat's husband to drop his hands, and he did.
Not missing a beat, Biden compared the photographer to a TSA agent.
"Spread your legs; you are going to be frisked," Biden said, as they all stood still for the photo. "Drop your hands – you say that to somebody in North Dakota they think it is a frisk – drop your hands to the side, you know."
The vice president also had fun with some of the children who showed up. Speaking to freshman Sen. Chris Murphy's four year old son, Biden leaned down to ask his age.
"Hey handsome, how you doin? Good to see ya. How old are you, fourteen?"
After the child quickly corrected him, Biden put his hand to his forehead. "Oh I knew there was a four in there somewhere."
Biden also helped prod the Democrat's one year old baby to hold up his arm along with his dad for the swearing-in.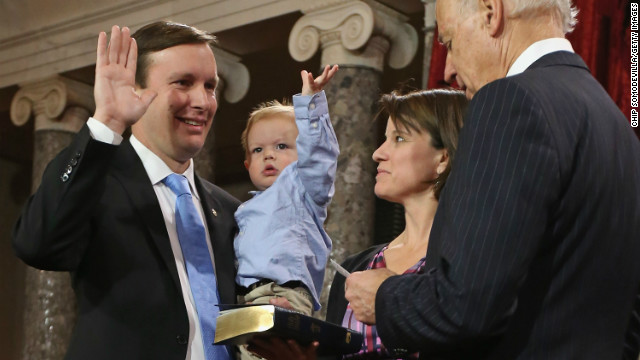 Freshman Sen. Ted Cruz, a Republican, brought his two young daughters along, both wearing red dresses. The youngest, a toddler, started crying when Biden picked her up.
"It's a Democrat, I know, but it's OK," said the vice president, hoping to calm her down.
Biden was also quick to compliment some body types. Another freshman senator, Tim Scott of South Carolina, didn't have kids with him but introduced the vice president to one man in the group, a command sergeant major in the Army.
"He looks like it," Biden joked. "If you need any help on your pecs, let me know."
- CNN's Virginia Nicolaidis and Ashley Killough contributed to this report.