Washington (CNN) – After all the anticipation and waiting, perhaps the biggest bombshell about Michelle Obama's inaugural ball dress was that it really wasn't a surprise at all.
Like 2009, the first lady wore a gown by the Taiwanese-born American designer Jason Wu, who was catapulted into the highest echelons of fashion when Obama donned one of his designs four years ago.

Obama, who is known for favoring lesser-known American designers, had several dresses presented to her before she made her decision, and didn't reveal what she would wear before she stepped out on stage at the Commander-in-Chief's ball, making her repeat turn in Jason Wu a rare moment of suspense amid the scripted revelry of the inauguration.
Monday's gown was a vibrant ruby red, made from chiffon and velvet, according to details released by the White House. It had design parallels to the flowing white chiffon dress Mrs. Obama donned in 2009, which firmly cemented the first lady's arm-baring, cinched waist style.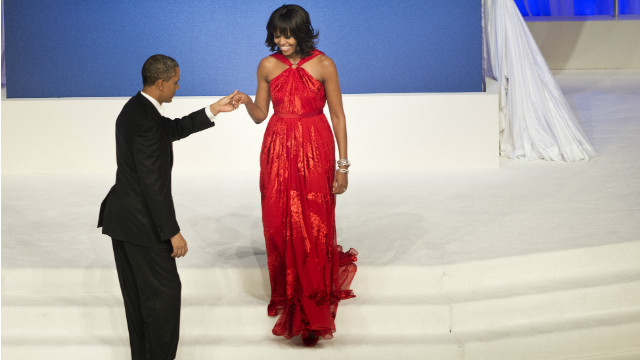 Those arms were again on display Monday in Mrs. Obama's halter-style dress, and a strip of duchess satin gathered the vibrant red fabric in tightly to her waist. An embellished ring designed by Kimberly McDonald held strips of fabric together at the first lady's neck. She paired the gown with Jimmy Choo shoes, the White House said.
As for the president, he wore what appeared to be the same tuxedo he donned at his 2009 inaugural balls, complete with white bow tie and flag pin.
Mrs. Obama's first appearance Monday sparked a blitz of amateur fashion criticism on Twitter, with the reaction mostly positive:
[tweet https://twitter.com/ClaudiaMota/status/293543716126355458%5D
[tweet https://twitter.com/LaurenKMaloney/status/293543652758794241%5D
[tweet https://twitter.com/saramsteckling/status/293544586901585920%5D
[tweet https://twitter.com/amroth86/status/293545014074671104%5D
Others, however, were less thrilled. Van Jones, a former Obama administration official and a CNN contributor, said though the gown was "very nice," it wasn't "such a great dress that the other dozen people shouldn't have had a shot."
One other American designer was given a boost Monday - Mrs. Obama stepped out for her husband's swearing-in ceremony wearing a navy silk coat in a checkered pattern and a matching dress by Thom Browne, an American designer known mainly for creating men's suits. The White House said the first lady's outfit was based on the style of a man's necktie.

More: Lessons in style from Michelle Obama
Speaking to CNN Monday, Brown said the nod from Michelle Obama was an honor – and an important boon to his two-year-old womenswear business.
"You can never predict life to happen this way," he said. "I'm just so fortunate, so honored, so proud that she chose mine."
Michelle Obama also wore J.Crew gloves and belt, earrings by Kathy Waterman, and blue suede boots from Reed Krakoff, the same designer who created the indigo shift dress and cardigan the first lady wore to the president's official swearing-in ceremony on Sunday.
Krakoff's namesake line sells shoes prices north of $500, but he is also the president of the American leathergoods purveyor Coach, whose shoes (and bags and wallets) are priced lower.
The White House said Monday that Mrs. Obama's swearing-in outfit and Jason Wu gown would head to the National Archives.
The Obama's two daughters were also decked out Monday – Malia in a lavender coat and royal blue dress from J.Crew, and Sasha wearing a purple jacket and dress from Kate Spade.