Baltimore (CNN) - The owner of the company that ran the audio board used during Monday's inauguration ceremony tells CNN it's up to Beyoncé to disclose whether she was live or lip-syncing the National Anthem.
"What people heard over the system and on-air was Beyoncé singing the National Anthem and when she actually sang it is kind of a moot point," said Bob Goldstein, owner of Maryland Sound International.

[twitter-follow screen_name='politicalticker']
But during the course of an exclusive interview with CNN, Goldstein dropped several hints that the pop artist's performance was indeed pre-recorded. However, he was not willing to say definitively whether Beyoncé was lip-syncing.
"I don't believe it's up to us to have that conversation. I don't think it's a question that I should answer," Goldstein told CNN. "I think it's something that Beyoncé should disclose. I think it's up to her whether she wants to address the conversation," he added.
The U.S. Marine Band, whose music accompanied the singing sensation's performance on Monday, initially stated through a spokeswoman on Tuesday that Beyoncé "was not actually singing" the Star Spangled Banner. Hours later, the band backed away from the spokeswoman's remarks, releasing a statement that said the group was not in a position to know for sure.
Beyoncé pre-recorded a version of the National Anthem the night before the inauguration, the Marine Band disclosed. In her initial comments to CNN, the band's spokeswoman said that pre-recording was used. The band's official statement late Tuesday would only acknowledge that its own music accompanying Beyoncé was a recording.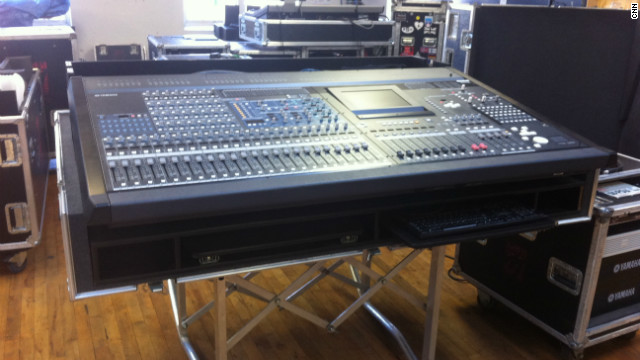 The sound board used during Monday's inaugural ceremony.
Goldstein was willing to state that the inaugural ceremony's other two musical performers, Kelly Clarkson and James Taylor, gave live performances.
"I can tell you that the other two were absolutely, all the way live," Goldstein said. "I can't tell you about Beyoncé because it's become an issue. And I don't think it's up to us to clarify the issue. I think it's up to her."
Goldstein defended the pop star's performance, whether it was "live" or "Memorex," as he put it.
"It was 100 percent her singing in either case. It's not somebody else singing the part for her. It's a hundred percent her. It was a hundred percent live whenever it took place," Goldstein said.
Asked about the audio board used during Beyoncé's performance, Goldstein declined to say whether its operator could hear the pop star singing. He also would not say whether the board operator played a pre-recording or the live performance.
After a long pause, Goldstein said, "I don't think I'm going to answer that question."
Publicists for Beyoncé have not returned CNN's calls for a comment on her performance.
Meanwhile, Matt House, spokesman for the Joint Congressional Committee on Inaugural Ceremonies, said simply: "I refer you to Beyoncé's representatives and won't have any further comment."