Washington (CNN) – They faced off as bitter foes in the 1992 election. Today George H.W. Bush and Bill Clinton are good friends - some even describe it almost as a father-son type relationship.
In this updated collection of letters, e-mails and other writings, "All The Best, George Bush; My Life in Letters and other Writings," Mr. Bush recounts the unlikely journey the two travelled to become so close today.
Programming note: For more about President George HW Bush's letters tune in to "The Situation Room with Wolf Blitzer" starting at 4 p.m. ET.

[twitter-follow screen_name='politicalticker'] [twitter-follow screen_name='KevinBohnCNN']
In a February 1999 letter to his five children, Bush recounted a trip he, President Clinton and former Presidents Carter and Ford had just taken to attend the funeral of Jordan's King Hussein. Aboard Air Force One he saw in Clinton "a great grasp of facts, apparently an in-depth knowledge on the issues. I disagree with many of the administration's positions that he outlined for us."
He called the actual funeral a "name dropper's paradise. With two Governors in our family, my name dropping credentials in the USA have, of late, gone down a little; but at this gathering I was a soaring eagle."
He found happiness, a new mission and a new partner when he was asked to lead relief efforts with Bill Clinton following the 2005 Asian tsunami. In a letter to friend and journalist Hugh Sidey, Bush talked about travelling in February of 2005 with Clinton, who he said was very considerate of him. He said Clinton would always wait so they could exit the plane together. "I thought I knew him; but until this trip I did not really know him."
In the same letter, he described how the two men had their different styles. Bush prided himself on always being prompt. Clinton not so much.
"Bill did have an opinion on everything and asked questions on a lot of things. When the questions were answered he would then opine based on some experience of his own, somewhere, sometime ago," Bush wrote. "In grade school they had a place on our report cards 'Claims more than his fair share of time and attention in the class room.' Bill would have gotten a bad mark there." But he also said it didn't upset him. "I did not mind this a bit....if we got in a bind for things to say or answers to be given to questions it was reassuring to know that 'he was de man!"
But mostly he grew to admire him. "You cannot get mad at the guy. I admit to wondering why he can't stay on time, but when I see him interacting with folks my wonder turns to understanding, with a dollop of angst thrown in," Bush wrote. "Clinton is a fascinating character. He has opinions on everything -no matter what. He seems to have a great grasp of history's events and people," he wrote.
Later that year the two men would join forces again – to raise money at home to help the victims of Hurricane Katrina.
In October, 2006 he sent a note to Clinton after they received a joint award. "This note is to simply let you know that I so appreciated your words about our relationship, about our friendship. It was from your heart – and I hope you know I feel the same away."
In the letter he also predicted Hillary Clinton's expected run for the 2008 Democratic presidential nomination - and criticism of Bush's son's White House that would inevitably follow – could put a strain on their relationship. "The politics between now and two years from now might put pressure on our friendship, but it is my view that it will survive. In any event, I have genuinely enjoyed working with you. Don't kill yourself by travel or endless rope lines. All the best, George."
"They have become really great friends; in fact almost like family and that's like a jealousy for the rest of the Bush kids. They think they got this other brother named Bill Clinton. It is a wonderful warm relationship and that is reflected in these letters," Bush family friend Andy Card, a former Transportation Secretary in his cabinet and White House Chief of Staff to George W. Bush, told CNN.
Bush also reached out to Clinton in January of 2008 with some words of empathy and a touch of humor. "My heart went out to you when I saw you trying to keep your eyes open during an MLK day sermon. I could indeed 'feel your pain,'" he wrote in the note adding "I have been there myself, more than once I might add, and it physically hurt as I tried to keep my eyes open."
He then shared with Clinton a funny anecdote about the "prestigious" Scowcroft award given to those serving in the Bush White House who "fell most soundly asleep during a meeting." It was named after his national security adviser Brent Scowcroft, who he said was "hopeless...he could sleep in any meeting at any time of day."
He recounted how then Defense Secretary Dick Cheney won the award once. "He proclaimed himself unworthy, though his solid sleep in the Cabinet meeting had been witnessed by all assembled," Mr. Bush wrote. "Having been a Scowcroft Award recipient myself I send you now my total understanding and my warmest personal regards. As I heard that minister droning on I made a challenge for the trophy myself. Your friend, George."
In this update of his 1999 book, on sale beginning Tuesday, Mr. Bush also shared some poignant moments for the first time publicly.
He included a May, 2000 letter to his pastor after he helped the family move the body of his infant daughter, Robin, from Connecticut where she was first buried to Texas. Robin was three years old when she died of leukemia in 1953, and the family has not spoken much about her death in public. "It seems funny after almost 50 years since her death how dear Robin is to our hearts. My tears flowed when you said those lovely prayers. But they were not the same tears of devastation, loss and pain that I felt when Robin died. Instead they were tears of gratitude that we had her at all and maybe even tears of joy she was still with us."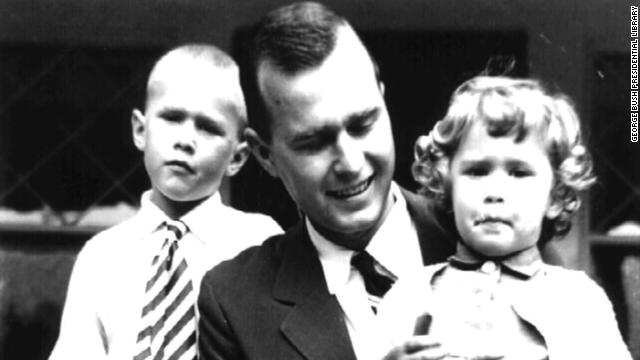 George H.W. Bush is pictured with his children Robin and George W. Bush in 1953.
He also was very reflective in some of these writings. In an Aug. 2001 letter he told journalist Carl Cannon: "Now at 77, I find that I am perfectly content to let history be the judge of those things I got right, and of my mistakes as well. Mine has been a happy life. In competitive business, I was very happy – though restless and somewhat driven. In politics, I had victories and defeats, but for the most part I was very happy." He continued: "I have found happiness. I no longer pursue it, for it is mine. Pride in my family guarantees that happiness."