(CNN) - President Barack Obama is holding a press conference Tuesday in the White House briefing room. His press secretary announced the session early in the day:
Refresh this page for updates as the president's news conference gets underway.
11:35 a.m. ET: According to Obama, Collins told him he was still a competitor, "seven feet tall who could still bang with Shaq."
11:33 a.m. ET: "I told him I couldn't be prouder," Obama said of Collins, who he called a "terrific young man."

11:32 a.m. ET: A senior administration official announced the president's conversation with NBA free agent Jason Collins late Monday afternoon, saying that he called Collins "to express his support and said he was impressed by his courage." The First Lady also tweeted out her support of Collins' decision to come to Sports Illustrated by writing, "So proud of you, Jason Collins! This is a huge step forward for our country. We've got your back!"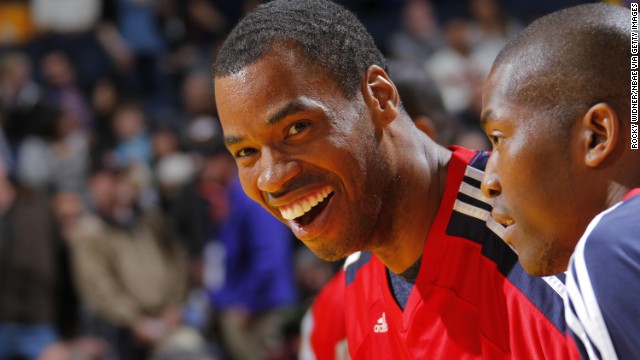 NBA Center Jason Collins (Getty Images)
11:32 a.m. ET: Obama started to walk off, but came back to answer a shouted question on Jason Collins, the NBA center who came out as gay in a Sports Illustrated essay on Monday. Obama spoke with Collins Monday night.
11:31 a.m. ET: Obama says it's still too early to tell how immigration reform would affect relations with Mexico and other Latin American countries. He'll determine that further on his trip later this week.
11:29 a.m. ET: Obama says again he's confident that immigration reform can pass Congress and make it to his desk for approval. He says if there are discrepancies between House and Senate bills, those can be resolved.
11:28 a.m. ET: Rare that the president holds a press conference without calling on a single wire service or U.S. newspaper. So far he's called on every TV network and then calls last question as he goes to a reporter from El Pais just days before he heads to Mexico and Costa Rica.
11:27 a.m. ET: Final question is from El Pais, one of the highest-circulation Spanish-language papers in the world. The question in on pending comprehensive immigration reform legislation.
11:25 a.m. ET: Obama is touting an announcement his administration made today, that a 21-page form necessary to apply for insurance under the ACA has been shrunk down to three pages. A senior administration official pointed out that the average private insurance form is "about 17 pages long, but we want our enrollment to be easier than dealing with the health insurers."
11:23 a.m. ET: There will always be "glitches and bumps" in implementing government programs, Obama said.
"If you stay with it, and understand what our long term objective is," Obama said, "we're going to be able to drive down costs" and "improve efficiencies in the system."
11:20 a.m. ET: Obama notes that "All the implementation issues that are coming up" for his sweeping health care law are issues that are "related to the narrow group who don't have health insurance right now."
Earlier Tuesday a White House official told CNN that applications for health insurance coverage under the law will go from 21 pages to three as part of an effort to simplify the implementation of Obamacare.
11:18 a.m. ET: Fifth question is from NBC, who asks how the complicated implementation of Obama's health care law.
Chuck Todd's question invoked retiring Democratic Sen. Max Baucus' recent comments criticizing the Affordable Care Act. The president released a statement when Baucus announced his retirement, but didn't mention the senator's role in drafting or spearheading passage of the ACA.
11:17 a.m. ET: Obama seemed to justify continuing to force feed prisoners at Guantanamo who are engaging in a hunger strike, by saying "I don't want these individuals to die."
11:14 a.m. ET: Obama says he will try again to close the military facility at Gitmo.
"It's a recruiting tool for extremists," he said.
Closing the Guantanamo Bay was a campaign promise Obama made in 2008 that went unfulfilled in his first term.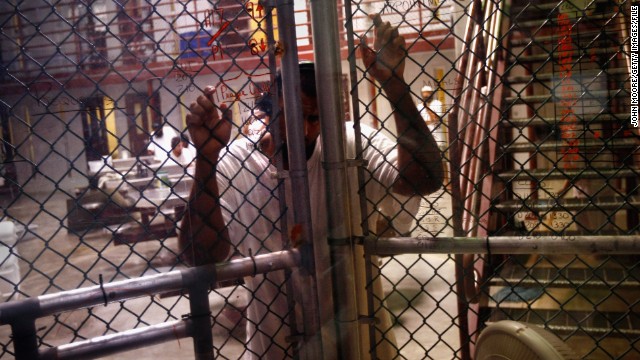 A photo shows a detainee inside the Guantanamo Bay prison in 2009. (Getty Images)
11:12 a.m. ET: Fourth question is from CBS, on the ongoing hunger strike at the U.S. detention center in Guantanamo Bay, Cuba.
The number of striking detainees has risen sharply in the past few weeks to include more than half of those held at the military-run facility.
11:10 a.m. ET: "I cannot force Republicans to embrace those commonsense solutions" on deficit reduction, Obama said, noting he would continue putting pressure on them by speaking directly to the American people.
11:09 a.m. ET: Jump ball question from ABC's Jon Karl allows the president to lay out his priorities after the first 100 days of his second term. He's focusing mostly on the forced budget cuts known as sequestration, once again blaming Congress for not taking action on a grand bargain-type solution. This has been the president's common refrain on these budget cuts, and he once again calls on Congress to work with him on a "broader deal" rather than passing patchwork fixes like the recent FAA bill.
11:07 a.m. ET: Obama said he's still confident a bipartisan immigration bill will hit his desk in the near future. And he said he's continuing talks with Republicans on a way to reduce the federal deficit.
11:04 a.m. ET: Obama - who responded to the question with an exasperated "Golly!" - said that "rumors of my demise are a little exaggerated."
11:02 a.m. ET: Third question is from ABC. Jon Karl asked "Do you still have the juice" to get your agenda through Congress?
11:03 a.m. ET: About Obama's call with President Putin, yesterday the White House said the two leaders discussed "the close cooperation that the United States has received from Russia on the Boston marathon attack." They also discussed "cooperation on counterterrorism and security issues going forward," including in the run-up to the 2014 Olympics in Sochi.
11:02 a.m. ET: Americans won't be intimidated after terror attacks like the Boston bombings.
"We're going to do what we do," he said.
11:01 a.m. ET: This is the first time the president has addressed the chain of intelligence in relation to the accused Boston bombers. In defense of his intelligence community, Obama calls Director of National Intelligence James Clapper's review of that intelligence "standard procedure." The president alluded a phone call placed yesterday to Russian President Vladimir Putin in which the two discussed Russia's role in the previous investigation of the older brother accused of the bombing.
10:59 a.m. ET: An inquiry into how intelligence was shared ahead of the Boston attack by Director of National Intelligence James Clapper is a normal step, Obama said.
10:57 a.m. ET: Obama praises the immediate investigation in the bombing, and says criticism of the FBI for not further investigating one of the suspects prior to the attack is unfounded.
"It's not like the FBI did nothing," he said.
10:55 a.m. ET: Second questioner is CNN Chief White House Correspondent Jessica Yellin. She asked about the ongoing investigation into the Boston Marathon bombings, and whether any part of that probe has been mishandled.
10:53 a.m. ET: A second question from Fox, on whether survivors of the Benghazi attack have been blocked from testifying, doesn't get much of a response from Obama.
"I'm not familiar with that report," Obama said.
10:52 a.m. ET: The president's first answer on Syria is consistent with the cautious answer he gave to a shouted question last Friday during a bilateral meeting with King Abdullah of Jordan. He continues to call chemical weapon use by the Syrian regime a "game changer," but says the intelligence needs to be solid before any decision is made.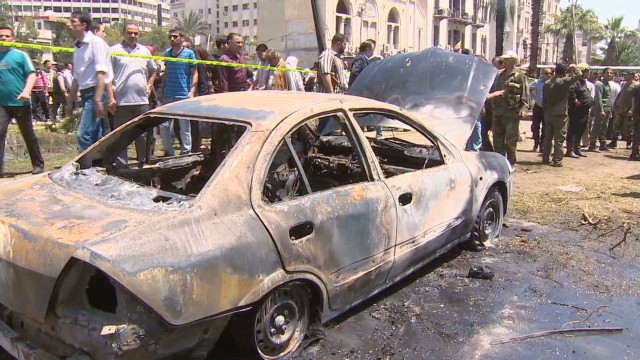 The site of a car blast in Damascus on Tuesday, April 30. (Getty Images/AFP)
10:52 a.m. ET: If further evidence emerges of chemical weapons use in Syria, "that is a game-changer," Obama said. He won't go into potential military options, however.
10:50 a.m. ET: Obama, noting that intel on chemical weapons is still preliminary, says when he makes a decision, "I have to have to facts."
"It's important for us to do this in a prudent way," he said, noting his team has to "establish with some certainty" what has actually happened in Syria.
10:48 a.m. ET: Obama notes that chemical weapons allegations aside, what's happening in Syria is unacceptable.
"The only way to bring stability and peace to Syria is for Assad to step down and to move forward on a political transition," he said.
10:46 a.m. ET: The president joked that this press conference was sparked by Fox News' Ed Henry's departure as president of the White House Correspondent's Association. The Associated Press always gets the first question, so calling on Henry first is definitely a departure from precedent.
He asked about Syria chemical weapons, and a follow up on survivors of the attack on the Benghazi consulate last September.
10:44 a.m. ET: The White House has given a two minute warning to the president.
10:40 a.m. ET: What will Obama be asked in his news conference today? Reporters could ask anything, but expect a question on chemical weapons in Syria. Last week the White House said U.S. intelligence, with "varying degrees of confidence," confirmed sarin was used in the country, which Obama has said is a "red line" for greater U.S. involvement in the conflict.
He could also be asked about the ongoing investigation in the Boston Marathon bombings, which some Republicans have said is being mishandled.