Updated 9/19/2013 at 8 a.m. ET
Washington (CNN) – Two potential contenders for the 2016 GOP presidential nomination weighed in Wednesday on the congressional battle over Obamacare that's now putting a government shutdown at risk.
While former Florida Gov. Jeb Bush and Louisiana Gov. Bobby Jindal agreed the president's health care law is a disaster, they had slightly different comments on House Republicans' refusal to pass an upcoming spending bill unless it kills funds for the president's health care law.

[twitter-follow screen_name='politicalticker'] [twitter-follow screen_name='psteinhauserCNN']
Asked at a National Press Club event in Washington whether the GOP should move forward with the plan, Jindal didn't directly answer the question but said he believes the "repeal and defund" strategy is certainly "a fight worth having."
House Republicans have voted to defund Obamacare at least 40 times since it became law in 2010. While a few provisions have already kicked in, open enrollment for the state insurance exchanges starts October 1.
"I think (Obamacare) needs to be replaced, but I think 'repeal and defund' is certainly… a fight worth having. I don't think as a party we should negotiate with ourselves or take anything off the table," Jindal said.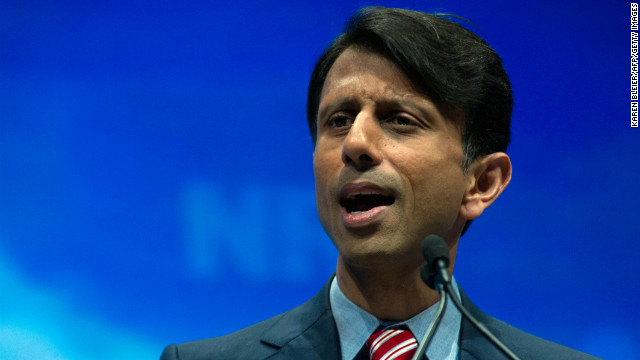 The governor, however, insisted Republicans need to come up with an alternative. "I don't think it's just enough to say we'll repeal it."
Jindal opted out of the federally-funded Medicaid expansion for his state that would last three years, a provision under the health care law.
Adding on, Bush said he wanted to offer "a little dose of reality."
With Republicans holding the majority in the House, they only control "one-half of one-third" of the federal government, meaning their influence is greatly limited.
"It's a reality. This isn't a hypothetical. So as we get closer to these deadlines, there needs to be an understanding that politically it's quite dicey for the Republican Party," he said.
Bush argued the health care law is "so dysfunctional" and could "collapse under its own weight," implying Republicans should let the law fail on its own rather than try to bring it down with the threat of a government shutdown.
"I don't think (the Obama administration has) the ability to implement it effectively, and so this debate will go on because this is not going to work," Bush said. He agreed with Jindal that Republicans should have an alternative plan ready to go.
Bush argued Obamacare is the "single biggest retardant" to job creation.
"This issue's not going to go away, irrespective of what happens in the next couple of weeks here," he said.
Bush also cautioned his Republican colleagues in Washington to think beyond the beltway when it comes to negotiating.
"The fight here is important to have, this is an important part of political life. There's a lot things riding on how Republicans act as it relates to the deficit and budget issues and many other things. I'm not discounting what they do," he said of the nearing fiscal deadlines.
"But I do think the emphasis of being against the president's policies, no matter how principled they are, needs to be only half the story, if not less," Bush continued. "There ought to be more focus on the efforts underway in state capitols and outside of government, to be honest with you, to rebuild America in a more traditional way."