The partial government shutdown is now in its eighth day. While some people aren't feeling the impact yet, effects are hitting communities across the country.
Here's what you need to know.
What's happening in Washington (or, what's not happening)

While Republicans and Democrats are expected to do a lot of talking Tuesday, little of it is with members of the opposite party to work on a way to break the stalemate.
House Speaker John Boehner indicated that he's willing to talk. He told reporters Tuesday he's "not drawing any lines in the sand." "I want to have a conversation," he told reporters in Washington. "It's time to ... resolve our differences."
President Obama called Speaker Boehner Tuesday morning – just minutes after his statement. The president said he is willing to negotiate, but only "after the threat of government shutdown and default have been removed." In other words, nothing's changed.
Obama could move the discussion forward when he speaks to reporters Tuesday afternoon.
And Senate Democratic and Republican leaders will also talk to reporters - separately - after their weekly lunches.
Debt ceiling debate: Preaching to the choir
Setting up the next fiscal fight, Senate Democrats could up the ante by filing a bill today that would lift the country's debt limit and force Republicans to go on record as having voted against it. The Treasury runs out of ways to pay its debts sometime after next Thursday, which administration officials say would be catastrophic to the country's economy. But some on the right aren't so sure that would be a bad thing.
The bill would increase the debt ceiling until after the 2014 elections and does not include any of the demands issued by Republicans, such as reductions in government spending and changes to the health care law.
The Senate has not agreed to take up a bill, however, that would provide back pay to furloughed government workers. The House passed it Saturday. The second-ranking Senate Republican, Sen. John Cornyn of Texas, said, "I think it's really premature to be dealing with that until we resolve the underlying problem."
What history says
The White House vows it will not negotiate any policy concessions attached to an increase in the nation's debt ceiling, hoping to avoid a sideshow every time the limit needs to be raised. But there is precedent for Congress to link other issues to such a hike.
• In 1989, the House and Senate agreed to repeal a tax rule approved three years earlier barring discrimination in employer-paid health insurance plans.
• And in 2011, an increase in the debt ceiling was allowed after promised budget cuts outlined in the Budget Control Act.
• Even more, in the 1970s and 1980s, votes on the debt limit included requirements for a balanced budget vote, a cigarette tax and the push for an alternative minimum tax.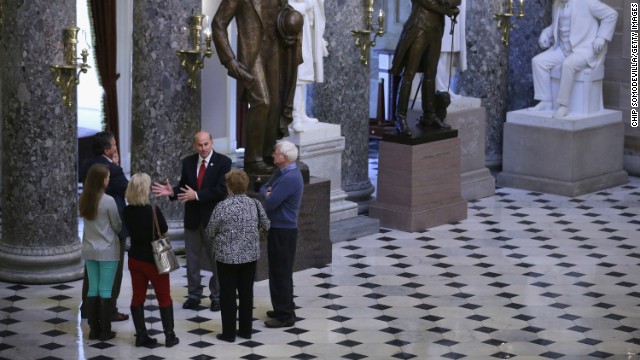 Your count seems a bit off
Boehner said he doesn't have the votes to pass a "clean" continuing resolution - a bill with no strings attached that would fund the government for the next month or two.
But CNN surveyed the House and found that 218 lawmakers would support a "clean" government funding bill. CNN has identified 200 Democrats and 18 Republicans who would support such a measure. That is one more than the 217 is the number of votes needed to pass a bill in the House.
Shutdown showdown: Where it's headed
Additionally, if Boehner brought a "clean CR" to the floor, there's a good chance a lot more Republicans would probably join in, one Republican said. But the 17 who said publicly they'd vote for a clean CR declined an opportunity in a procedural vote Monday night to break with their party on the funding issue.
There's your problem right there
John King, CNN chief national correspondent, says the problem with the current stalemate is a lack of trust.
"(W)hat you don't have is that basic trust and the people who matter most - the people who can deliver a deal to the finish line - sitting down together. In part because the president says he won't negotiate at all on the issue of a government shutdown, and he won't negotiate for the debt ceiling increase.
"So, the trust deficit at the moment is still in the way of any progress. We're on Day 8. That debt ceiling deadline (is) now within 10 days from now. The government would run out of money within a week or two of that.
"Forgive me, but you should have Bill Murray come in and do this for the next couple days because it seems like 'Groundhog Day.' "

There's a lot of anger
Most Americans say the partial government shutdown is causing a crisis or major problems for the country, according to a new national poll.
And while the CNN/ORC International survey also indicates that slightly more people are angry at Republicans than Democrats or President Obama for the shutdown, it is clear that both sides are taking a hit.
Huge majorities of Democrats are angry at Republicans, and huge majorities of Republicans are angry at Obama and Democrats. Independents are equally angry at all sides, with 59% of independents very or somewhat angry at Democrats, six in 10 angry at the GOP, and 58% angry at Obama.
What's more, the poll indicates that 18% of the public says the shutdown is a crisis and an additional 49% say the shutdown has caused major problems.
Would a shot of caffeine help?
The Starbucks Corp. CEO is using his megaphone to express his discontent. Howard Schultz urged fellow business leaders to ratchet up the pressure on U.S. political leaders to end the stalemate.
"This weekend I heard from several business leaders who shared their concern about our relative silence and impact in urging the political leadership to act on behalf of the citizenry," he wrote in a letter posted on the company's website. "It is our responsibility to address the crisis of confidence that is needlessly being set in motion."
Government shutdown: What's closed, what's open
And a wealthy couple donated $10 million to reopen shuttered Head Start programs around the country. Laura and John Arnold's donation will allow 7,200 children to return to the early education program for low-income children.

Health concerns
While Washington politicians appear to be playing a game of chicken over who will cave first, a dangerous salmonella outbreak, probably caused from tainted chicken, has affected at least 278 people in 18 states and raises questions about food safety during the partial shutdown.
While the agency is working to contain the problem, the director of the Centers for Disease Control and Prevention, Thomas Frieden, tweeted his frustration with his agency's inability to do its job during the shutdown. "Microbes/other threats didn't shut down. We are less safe," he said via Twitter last week.
Comings and goings
The CDC's 8,754 furloughed workers are a small portion of the approximately 483,000 government employees told to stay at home during the partial shutdown.
After Defense Secretary Chuck Hagel said most of the furloughed civilians at the Defense Department would be called back to work, just 14% of federal workers are now listed as furloughed.
Obama calls Boehner as stalemate continues over shutdown, default
And the Federal Aviation Administration is telling more than 800 employees to return to work, including 600 inspectors and safety staff.
Other agencies are just now beginning their furloughs. The Nuclear Regulatory Commission said Monday it expects to furlough about 3,900 employees at the close of business Thursday if the impasse isn't resolved.
The National Guard is attempting to weather the storm.
In Florida, nearly 1,000 Florida National Guard employees were called back to work Monday, but it could be short-lived.
"We have no money to do operations and maintenance," Major Gen. Emmett Titshaw said. "We can't buy fuel, we can't buy parts, and so we are very limited in our training."
The Guard is facing another shutdown mid-month if money issues and the federal government shutdown aren't resolved.
And in Idaho, half of the state's National Guard - 850 civilian workers - has been furloughed. If there is an emergency, such as a wildfire, the state will step in and provide funding.
No fear, though. Newly elected Republican Rep. Mark Sanford of South Carolina brought the total down a few by recalling all the furloughed workers in his office.

Shutdown meltdown: for the economy
If the weeklong government shutdown stretches to a month, it would cost the economy $50 billion.
That estimate is actually $5 billion lower than the initial estimate of Mark Zandi, chief economist for Moody's Analytics. He lowered his forecast after the Defense Department recalled nearly half of 800,000 federal employees furloughed last week, and it appeared that Congress would quickly approve a measure to pay other furloughed workers retroactively.
That's only the direct impact. There are indirect costs, too.
... for consumers
Fannie Mae and Freddie Mac have relaxed rules that would have kept banks from approving mortgages during the government shutdown.
Typically, Fannie and Freddie require lenders to verify a borrower's income with the Internal Revenue Service before closing on a mortgage. But last week, some lenders reported that they could not approve the mortgages because the shutdown had severely curtailed IRS operations.
The government-backed mortgage giants have since said lenders could continue to issue new loans even without the IRS's confirmation.

... and around the world
China and Japan, which hold a combined $2.4 trillion in U.S. debt, have called for a quick resolution to the crisis and expressed worries about the economic consequences of a default.
In the first official response by China, Vice Finance Minister Zhu Guangyao said that a solution must be found quickly in order to "ensure the safety of Chinese investments" and provide stability for economies around the globe.
A senior Japanese official, speaking to the Financial Times, said that country's Ministry of Finance is "very worried," and cited the market turmoil and "chaos" brought on by the failed House vote to authorize bank bailout funds in 2008.
- CNN's Tom Cohen, Paul Steinhauser, Dan Merica, and Jeanne Sahadi and Chris Isidore contributed to this report.