Washington (CNN) - Republican Sen. Rand Paul teamed up with a Democrat once again Tuesday in his effort to restore voting rights for convicted criminals who've served time in prison.
The Kentucky senator held a panel discussion on Capitol Hill with Sen. Ben Cardin of Maryland, the latest high-profile Democrat publicly working with Paul to rally support around a policy or idea.
[twitter-follow screen_name='KilloughCNN'][twitter-follow screen_name='zbyronwolf']
Paul's "odd couple" pairings appear to be growing more quickly as the first-term senator gets closer to 2016. So is he trying to unite the Senate, one-by-one? Or is he trying to broaden his name recognition and scope as he lays the groundwork for a likely presidential bid?
Regardless, it's a risky move in today's political climate. Aligning with Democrats should theoretically be the kiss of death for a Republican 2016 hopeful who wants to rev up primary voters.
While bipartisan legislative achievements look good in general elections, they can taint candidates as they try to shore up the GOP vote. Just ask Sen. Marco Rubio of Florida, whose political star fell somewhat among the Republican base after he helped pass a comprehensive immigration reform bill through the Senate last year.
But Paul's work with Democrats appears to be limited and strategic: He focuses mostly on policies involving criminal justice reform and federal surveillance programs, two issues that aren't seen as hyper partisan.
Serving up some red meat at the Texas GOP convention last month, Paul joked that the U.S. should trade five Democrats instead of five Taliban members in the next prisoner swap–a reference to the trade of Army Sgt. Bowe Bergdahl.
It looks like Paul's in favor of keeping at least these Democrats around: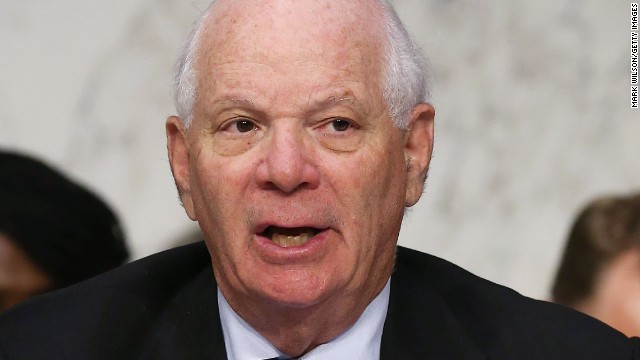 1. Sen. Ben Cardin of Maryland: Paul is jumping on board with an effort that Cardin has been pushing for years. The measure would give back federal voting rights to felons who are no longer incarcerated.
Paul, who's actively courting support from African-Americans and other minority voters, sees this as an opportunity to set himself apart from the deluge of criticism aimed at Republicans over voting rights.
"Here's a Republican who wants to enhance the vote. This is a much bigger problem than anything else limiting voting right now," Paul said last month on CNN's "State of the Union." "Nearly a million people can't vote. And I want to help people get their right to vote back."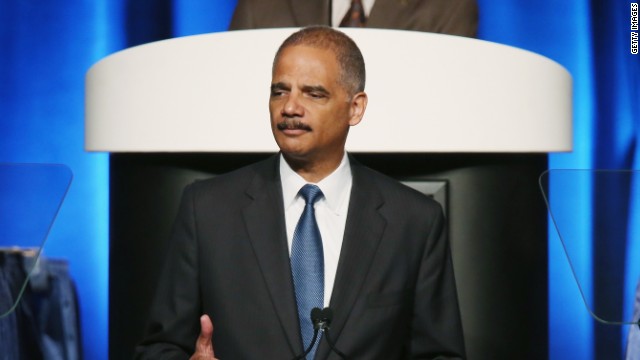 2. Attorney General Eric Holder. Paul may be suing the Obama administration over its surveillance programs, but he's still rubbing shoulders with the government's top law enforcement officer.
The two sat down for lunch in February to discuss their shared support for reforms to the criminal justice system, such as reducing or eliminating mandatory minimum sentences for nonviolent drug offenders.
In addition to Paul, Holder won support from some Republican governors who view mandatory minimum laws as federal government overreach.
A couple months later, the U.S. Sentencing Commission voted to reduce drug sentences for future nonviolent offenders. Holder is now trying to get those sentences reduced for current inmates.
However, some critics say the administration is making changes without congressional action, and the changes reverse laws that many credit with historical crime rate reductions in the past decade.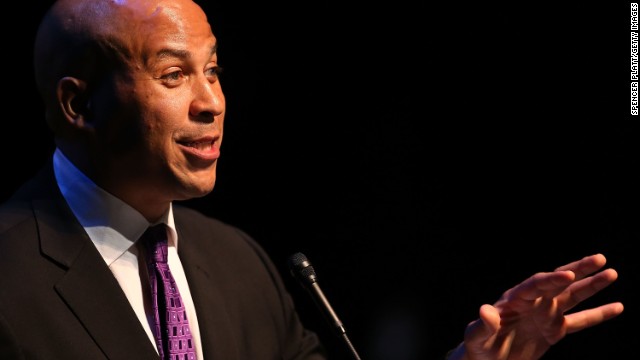 3. Sen. Cory Booker of New Jersey. In another unlikely pairing, Paul is working with Booker on wider reform to the criminal justice system.
Their new proposal, known as the REDEEM Act, would allow adults to seal non-violent criminal records, encourage states to increase the age of criminal responsibility to 18, and create automatic expungement of non-violent crimes committed by kids before they turn 15.
And last month the two introduced a measure that would officially ban the Justice Department from going after users of medical marijuana in states where pot is legal for medicinal purposes.
But, of course, the thing that has spurred the most attention is the selfie that Booker and Paul took together at a Politico event.
The duo said their friendship began over a love of Festivus, a quirky holiday-esqe tradition popularized in an episode of "Seinfeld" that is "celebrated" on December 23 and calls for, among other things, the airing of grievances.
Even though Paul came out and campaigned last year for Booker's GOP opponent, Steve Lonegan, it appears all is well between the two senators.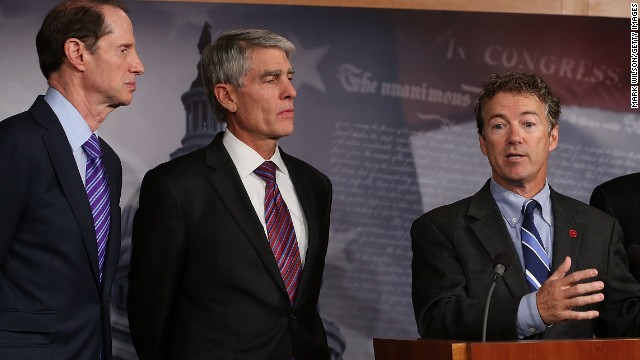 4. & 5. Sens. Ron Wyden of Oregon and Mark Udall of Colorado. When not tackling criminal justice reform, Paul is aggressively tweaking the government over the NSA's surveillance policy. Wyden and Udall have sided with Paul as he pushes back against programs that they argue violate civil liberties.
The three senators penned an op-ed together for the Los Angeles Times last month, one year after former government contractor Edward Snowden leaked some of the country's top spy secrets.
Wyden also stood in solidarity with Paul during Paul's 13-hour filibuster last year protesting the administration's drone policy. The Oregon senator was the only Democrat to join Paul that night on the Senate floor. (Sen. Dick Durbin of Illinois also took the floor, but he only asked questions about Paul's filibuster.)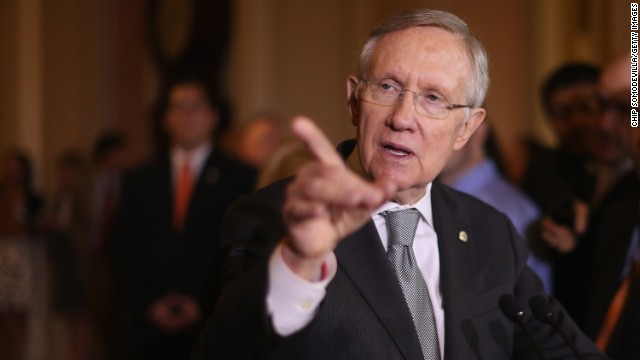 6. Senate Majority Leader Harry Reid. Perhaps the unlikeliest of them all: Paul announced on CNBC last month that he and the top Senate Democrat were proposing a tax holiday that would encourage companies to bring money home from abroad.
"Senator Reid and I actually have very warm personal relations and we've been meeting informally for months, both us and staff, to try and do something good for America," Paul said.
"I'm a glass-half-full kind of guy. I like Harry Reid personally. I'm working hard with him," he continued.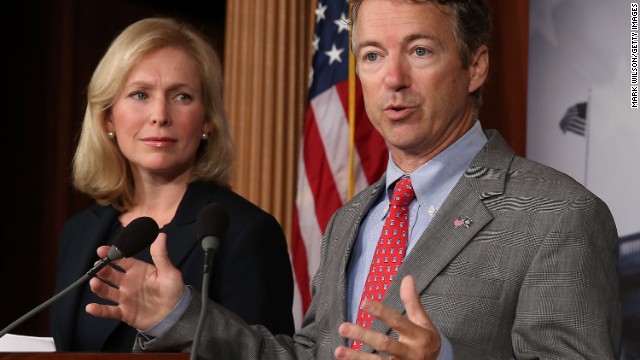 7. Sen. Kirsten Gillibrand of New York. Paul has worked multiple times with Gillibrand. In January, the two–along with Wyden–introduced a measure that would repeal the President's authorization to use military force in Iraq and would officially bring the Iraq war to a close, meaning future engagements would have to be approved by Congress.
And last summer, Paul joined Gillibrand and a bipartisan group of senators to advocate for a bill to combat sexual assault in the military.
CNN's Evan Perez and Dana Davidsen contributed to this report.