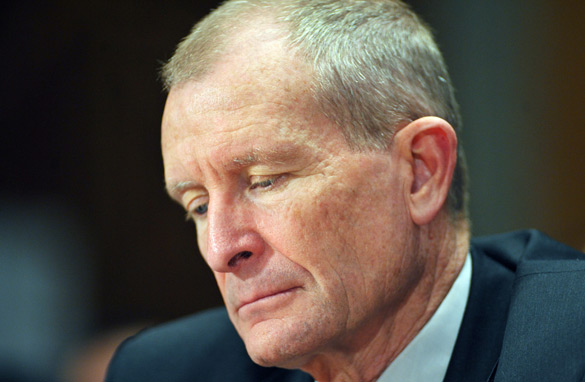 Director of National Intelligence Dennis C. Blair has resigned. (PHOTO CREDIT: Getty Images)
Washington (CNN) - The president's top intelligence adviser, Director of National Intelligence Dennis C. Blair, has announced his resignation, effective Friday.
Blair, a retired four-star Navy admiral, has served in the post since January 29, 2009. His office oversees 17 federal agencies of the U.S. "intelligence community," including the CIA, the FBI and the Department of Homeland Security.
Word of Blair's resignation comes just two days after the Senate Intelligence Committee released a report that sharply criticized the National Counterterrorism Center - overseen by Blair's office - for failing to properly coordinate intelligence activities to detect the botched Christmas Day airline bombing in advance.
The report said the center, created after the September 11, 2001, terrorist attacks to coordinate U.S. intelligence efforts, was "not organized adequately to fulfill its missions."
In addition, the report said other problems allowed suspect Umar Farouk AbdulMutallab to board a flight bound for Detroit, Michigan, in December with an explosive device that failed to detonate. AbdulMutallab was detained when other passengers noticed his clothes burning from his attempt to set off the device.