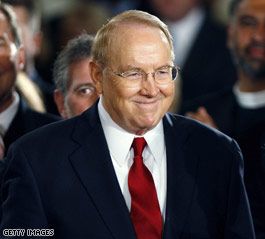 Dobson is urging social conservatives not to back a pro-choice candidate.
WASHINGTON (CNN) – James Dobson, a prominent social conservative leader, writes in The New York Times Thursday that conservative voters should not compromise their beliefs just to ensure that a candidate wins the election.
"Polls don't measure right and wrong; voting according to the possibility of winning or losing can lead directly to the compromise of one's principles," Dobson wrote on the Op-Ed page of the newspaper.
"In the present political climate, it could result in the abandonment of cherished beliefs that conservative Christians have promoted and defended for decades."
He added, "Winning the presidential election is vitally important, but not at the expense of what we hold most dear."
At the very base, Dobson said a candidate should support "the sanctity of human life, the institution of marriage, and other inviolable pro-family principles."
Dobson, who is the founder of Focus on the Family Action, also noted that at a recent meeting with social conservatives in Salt Lake City, there was near unanimity to support a minor party candidate" if none of the major candidates seeking the nomination support their political beliefs.
"After two hours of deliberation, we voted on a resolution that can be summarized as follows: If neither of the two major political parties nominates an individual who pledges himself or herself to the sanctity of human life, we will join others in voting for a minor-party candidate," Dobson wrote. "Those agreeing with the proposition were invited to stand. The result was almost unanimous."
Dobson's threat not to back a candidate who supports a strict social conservative agenda appears to hurt former New York City Mayor Rudy Giuliani, a frontrunner for the GOP presidential nomination. But the Giuliani campaign has downplayed the potential threat of third party candidate, noting polls showing strong support for him among church-going evangelicals.
Asked Monday about the potential opposition from social conservatives, Giuliani reiterated his electablitity trump card.
"I run the most competitive against Hillary Clinton by a big big margin and I can take democratic states from her," he said. "Nobody else does that."
- CNN Ticker Producer Alexander Mooney