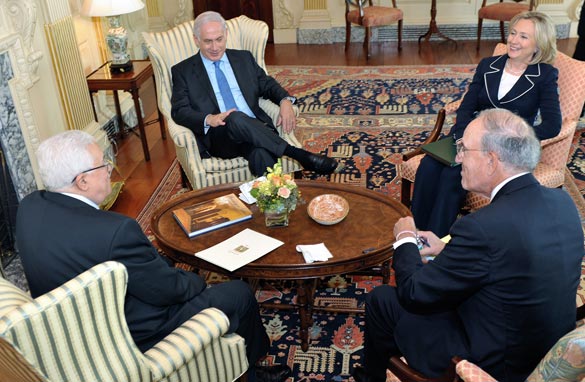 Secretary of State Hillary Clinton and Special Envoy George Mitchell in a trilateral meeting with Israeli Prime Minister Benjamin Netanyahu and Palestinian Authority President Mahmoud Abbas in the Secretary's Office on Thursday. (PHOTO CREDIT: State Department Official Photograph)
Washington (CNN) - President Obama's Middle East peace initiative this week has led to promises of a second round of negotiations on September 14-15, but CNN has learned that Israeli and Palestinian officials are also privately discussing the possibility of a third round of talks as early as later this month.
Two senior officials close to the talks said Israeli and Palestinian negotiators are already discussing a possible third round of talks because both sides are concerned about the impact of Israel's 10-month moratorium on Jewish settlement construction in the West Bank that expires on September 26th.
The goal is to pick up some momentum coming out of the September 14-15 talks, which Obama's Special Middle East Envoy George Mitchell announced Thursday in Washington after the first direct talks between Israeli and Palestinian officials in nearly two years.