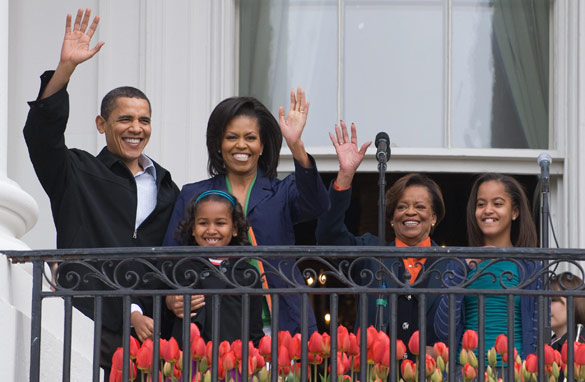 The first family, shown here in a 2009 file photo, attended Easter service at a southeast Washington church Sunday. (Photo Credit: Getty Images/File)
Washington (CNN) - President Barack Obama and his family chose a historically African-American church in southeast Washington, D.C., for Easter observances Sunday, entering a few minutes late to the sounds of "Alleluia," which opened the 11 a.m. service.
Congregants at the Allen Chapel African Methodist Episcopal Church broke into cheers and applause, snapping cell phone pictures when Obama, wife Michelle, daughters Malia and Sasha, and mother-in-law Marian Robinson arrived via a side door.
Several speakers during the service acknowledged the first family's attendance at the church, which calls itself "The Cathedral of Southeast."
The church's pastor, the Rev. Dr. Michael E. Bell Sr., referred to the president as the "most intelligent, most anointed, most charismatic president," while complimenting Michelle Obama, who wore a cream-colored dress with elbow-length sleeves.
Bell also acknowledged the timing of Obama's visit to the church, five days after a March 30 shooting spree in the region killed four people and wounded five others.
FULL POST