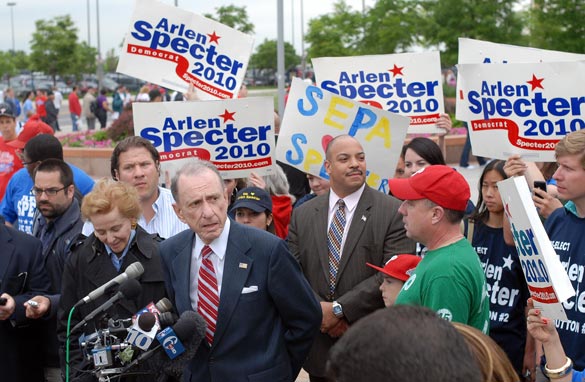 Arlen Specter is in a fight for his political life. (Getty Images)
Washington (CNN) – The rain is falling 150 miles north of the nation's capital on this Tuesday, likely dampening the much needed get-out-the-vote effort for Pennsylvania Sen. Arlen Specter, who is in jeopardy of being swept out office after serving 30 years on Capitol Hill.
The winds of anti-incumbency blew into Pennsylvania over the past few weeks and Specter watched his once-commanding lead over Democratic primary rival Rep. Joe Sestak disappear.
Why the weather analogies? Because there hasn't been a member of Congress who has had a more stormy 12 months on Capitol Hill than Specter, the gruff and unpredictable Pennsylvania Republican-turned-Democrat who is known in Washington and beyond as "Snarlin' Arlen."
Specter is 80 years old, but for Democrats in 2009 he was the new 60, the parliamentary crowbar Democrats needed to help muscle President Obama's controversial policies past Republican opposition in the Senate.