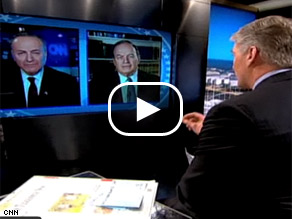 Watch Sen. Shelby debate the merits of the stimulus bill with New York Sen. Charles Schumer on John King's State of the Union.
WASHINGTON (CNN) – Republican Sen. Richard Shelby of Alabama still isn't happy with the stimulus bill even after hours of negotiating by centrist members of his own party in the Senate.
Asked by CNN's Chief National Correspondent John King whether the version of the bill currently under consideration in the Senate is better than the House version, Shelby said his preference would be to start from scratch.
"It's close to the House bill," Shelby said Sunday on State of the Union. "They tweaked it a little bit but the substance is the same."
"It's not anything I could support," Shelby added. "And I would hope – and I'm afraid we won't – the Republicans would stay together. We could shelf this bill and start again. That's what we really need to do."
Shelby, the Ranking Member on the Senate Banking Committee, has also been critical of other efforts by the federal government to help the struggling economy including legislation that would have provided a bailout to the auto industry.
The Senate reached a tentative agreement Friday evening on a compromise version of the stimulus bill that was largely negotiated by a handful of centrist Republicans whose votes are needed to prevent a filibuster.
The Senate is expected to vote on the revised stimulus bill Tuesday.