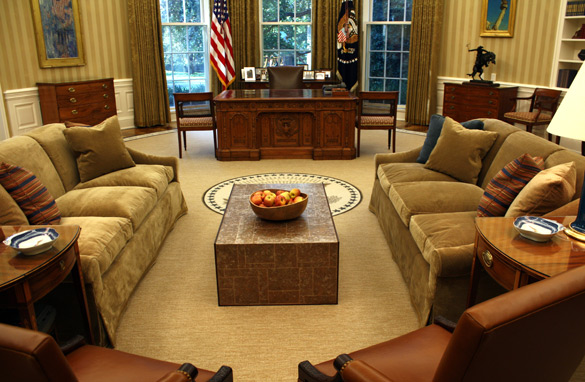 The Oval Office recently underwent an extreme makeover. (PHOTO CREDIT: Shawna Shepherd/POOL)


(CNN) - It may not have been a design on a dime but the Oval Office underwent an extreme makeover and, just like the popular television program of the same name, the renovation was done while the First Family was away on vacation.
A design team swooped in and in less than 10 days, transformed the president's office from a traditional and somewhat formal setting to a more modern family-style room.
There's a new signature oval rug, leather desk chair, two overstuffed light brown couches, a walnut and mica coffee table with modern lines, two blue ceramic lamps and blue accent pillows on the couch, reupholstered furniture, and handmade striped wallpaper.
See more pictures and a video tour of the redesigned Oval Office, after the jump:
FULL POST