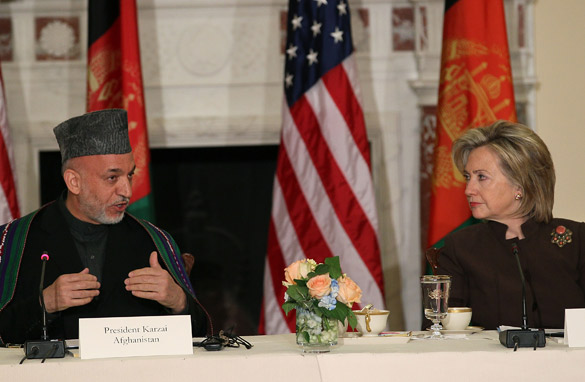 Afghan President Hamid Karzai was is in Washington Tuesday meeting with members of the Obama administration. (PHOTO CREDIT: Getty Images)
Editor's note: Since becoming State Department producer in 2000, Elise Labott has covered four secretaries of state and reported from more than 50 countries. Before joining CNN, she covered the United Nations. Follow her on Twitter at @eliselabottcnn
Washington (CNN) - On the surface, President Hamid Karzai's whirlwind visit to Washington was all about atmospherics.
The effusively warm words for the Afghan president - coupled with lunch at the White House, dinner at the vice president's residence and a reception at the State Department - were all meant to show that after months of tension between Karzai and President Obama over Karzai's anti-Western comments and U.S. complaints he wasn't doing enough to address corruption within his government, the United States and Afghanistan were back to being friends.
But the warm embrace of Karzai was also part of a campaign to assure him and his government that the United States will not abandon Afghanistan, even after it begins to withdraw its troops next summer.
For his part, Karzai sought to reverse the perception he was insensitive to the sacrifices of the U.S. military. He stopped at Walter Reed Army Medical Center to visit wounded troops and paid tribute to fallen U.S. soldiers at Arlington National Cemetery.