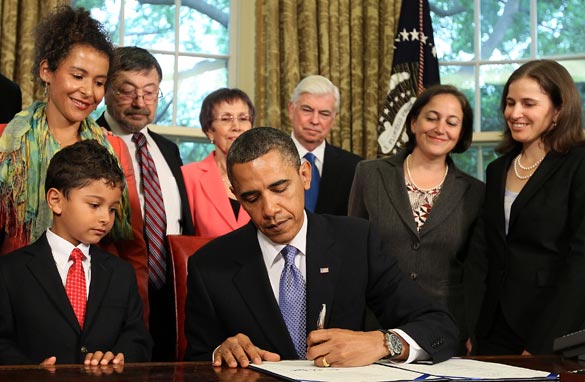 President Obama signs the Daniel Pearl Freedom of Press Act while widow Mariane Pearl (L) and son Adam Daniel Pearl (2nd-L), stand nearby. (Getty Images)
Washington (CNN) - President Barack Obama signed legislation Monday expanding the federal government's role in monitoring global freedom of the press.
Obama signed the Daniel Pearl Freedom of the Press Act, which requires a greater examination of the status of press freedoms in different countries in the State Department's Annual Country Reports on Human Rights Practices.
Among other things, the State Department will now be required to "identify countries in which there were violations of press freedom; determine whether the government authorities of those countries participate in ... or condone the violations; and report the actions such governments have taken to preserve the safety and independence of the media," according to a statement from Sen. Chris Dodd, D-Connecticut, one of the bill's primary sponsors.