WASHINGTON (CNN) - Very few security issues cropped up this morning, say officials. There were issues at a few checkpoints, including one at the Capitol where processing was slow.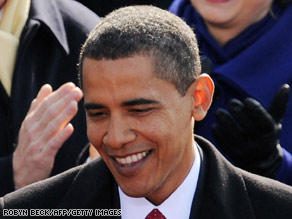 Still, CNN staffers reported crowds of several hundred - including many angry ticketholders - who were shut out of the event at various checkpoints because officials could not clear them in time for the start of the inaugural ceremony.
Only one checkpoint to the Pennsylvania Avenue parade route has closed. They haven't yet reached capacity on the route, which can accommodate 300-350,000. Many visitors did not realize there was a two-hour gap between the swearing-in ceremony and the parade. At Pennsylvania Avenue and 7th Street, crowds are getting restless.
In the meantime, the president and vice president, along with their families and senior aides, have joined members of Congress for a private lunch in the Capitol, a relatively new tradition.