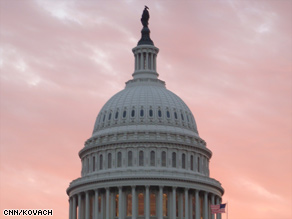 WASHINGTON/POLITICAL
For the latest political news: www.CNNPolitics.com.
CNN Dodd: Administration pushed for language protecting bonuses
Senate Banking committee Chairman Christopher Dodd told CNN Wednesday that he was responsible for language added to the federal stimulus bill to make sure that already-existing contracts for bonuses at companies receiving federal bailout money were honored.
WSJ: Some Will Pay Back AIG Bonuses
Some top employees of American International Group Inc.'s disgraced Financial Products group have agreed to return hefty retention bonuses under mounting public outrage over $165 million in payouts to a unit that brought the insurer to its knees.
NYT: A Defining Moment for Treasury Secretary
Fair or not, questions about why Mr. Geithner did not know sooner about the A.I.G. bonuses and act to stop them threaten to overwhelm his achievements and undermine Mr. Obama's overall economic agenda.
Washington Post: Fed to Pump $1.2 Trillion Into Markets
The Federal Reserve yesterday escalated its massive campaign to stabilize the economy, saying it would flood the financial system with an additional $1.2 trillion.
WSJ: Bush Decides to Write a Book on Decisions
Former President George W. Bush, who once called himself "The Decider," is writing a book about decisions.
NATIONAL/INTERNATIONAL
For the latest national and international news: www.CNN.com.
WSJ: In France, Oui to Bailout, Non to Layoffs
In exchange for a €3 billion ($3.9 billion) low-interest loan from Paris, Renault pledged not to close any French factories for the duration of the loan or resort to mass layoffs in France for a year.
Houston Chronicle: U.S. moves to beef up border security
The Obama administration plans to deploy additional federal law enforcement agents to the U.S.-Mexico border to choke off southbound shipments of automatic weapons and cash drug proceeds that are fueling the Mexican cartels' murderous resistance to Mexico President Felipe Calderon.
USA Today: Fewer leaving urban centers, moving to sunnier places
Unemployment and the housing meltdown are triggering an about-face in where Americans choose to live.
LA Times: Studies cast doubt on prostate cancer screenings
The tests rarely save lives, researchers say, and treatment can cause more harm than the potential tumor.
LA Times: Medical marijuana dispensaries will no longer be prosecuted
The statement by Eric H. Holder Jr. represents a landmark shift from the Bush administration's zero tolerance toward the use of pot by people with cancer and other serious ailments.
BUSINESS
For the latest business news: www.CNNMoney.com
CNN: Stocks seen opening lower
Stocks were set to open lower Thursday, as investors look ahead to the government's weekly report about the state of the job market.
CNN: Recovery.gov's citizen accounting effort
The government's online effort to track stimulus money could transform public spending by allowing you to play Big Brother, but it's off to a slow start.
Business Week: The Fed Breaks Out the Heavy Artillery
With rate cuts no longer an option, Bernanke & Co. launch a massive plan to buy up mortgage-backed securities, agency debt, and Treasuries to boost the economy and the markets
Business Week: Why the U.S. Is Losing Foreign Graduates
A new report says foreign science and engineering graduates are leaving the U.S. to start companies at home. Could a U.S. policy fix keep them here?