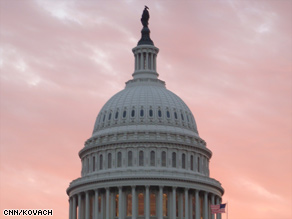 The CNN Washington Bureau's morning speed read of the top stories making news from around the country and the world.
WASHINGTON/POLITICAL
For the latest political news: www.CNNPolitics.com.
CNN: Obama calls for 'common ground' on abortion at Notre Dame
President Obama delved into the abortion debate in a controversial Notre Dame commencement address Sunday, calling for a search for common ground on one of the most divisive issues in American politics.
CNN: Obama girds for Supreme Court fight
President Obama has started arming for the possibility of a major Supreme Court nomination battle, pulling a longtime Democratic power player into the White House to help run the confirmation process, senior administration officials told CNN.
CNN: Iraq war case wasn't built on the waterboard, Liz Cheney says
Waterboarding was not used to produce intelligence that linked Iraq to al Qaeda in the run-up to the war in Iraq, former Vice President Dick Cheney's daughter said Sunday.
CNN: GOP leader on Pelosi's claim: Provide proof or apologize
House Minority Leader John Boehner turned up the heat Sunday in the escalating war of words between House Speaker Nancy Pelosi, congressional Republicans, and the CIA over Pelosi's knowledge of enhanced CIA interrogation techniques including water boarding.
CNN: Obama to visit Ghana in July
President Obama will rack up plenty of frequent flyer miles this summer with planned trips in Africa, Russia and Italy.
CNN: Obama names moderate Republican as envoy to China
President Obama announced Saturday that his choice for U.S. ambassador to China is moderate Republican Utah Gov. Jon Huntsman, who expressed some surprise at the appointment.
NYT: Pakistan Is Rapidly Adding Nuclear Arms, U.S. Says
Members of Congress have been told in confidential briefings that Pakistan is rapidly adding to its nuclear arsenal even while racked by insurgency, raising questions on Capitol Hill about whether billions of dollars in proposed military aid might be diverted to Pakistan's nuclear program.
Washington Post: At Geithner's Treasury, Key Decisions on Hold
The delay is one of many hitches that have slowed a host of important policy actions in the four months since Timothy F. Geithner became Treasury secretary. While Geithner has taken dramatic steps to address flashpoints in the economy, the work of carrying out those policies has bogged down because critical decisions about how to do so aren't being made, interviews with a broad range of federal officials show.