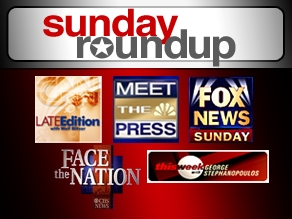 (CNN) - The economy may be "Issue #1," and the unresolved Democratic presidential race continues to dominate the headlines, but in anticipation of Tuesday's congressional testimony by General David Petraeus and Ambassador Ryan Crocker, much of the Sunday morning talk focused on the Iraq war.
*
On "Fox News Sunday," John McCain responded to Barack Obama's criticism of the presumptive Republican nominee's comment about maintaining a troop presence in Iraq for 100 years.
"I said, 'It could be 100 years, but it's a matter of U.S. casualties, and we have presence in countries like South Korea, Japan,' et cetera, et cetera," McCain told Chris Wallace. "So it's very clear. And Senator Obama and anyone who reads that knows that I didn't think we were in a 100-year war."
Later on Fox, Sen. John Kerry, D-Massachusetts, disputed the Arizona senator.
"On the 100 years war issue, John McCain is being disingenuous, because what he said in that interview was as long as there is no violence - which indicates a fundamental misunderstanding of Iraq itself," Kerry alleged.
"If he's talking about being there for 40 years, 100 years, he's talking about attracting more and more terrorists and not paying attention to the larger challenges."